26 Mar 2023
Building Our Skills applauds KUBU Apprentice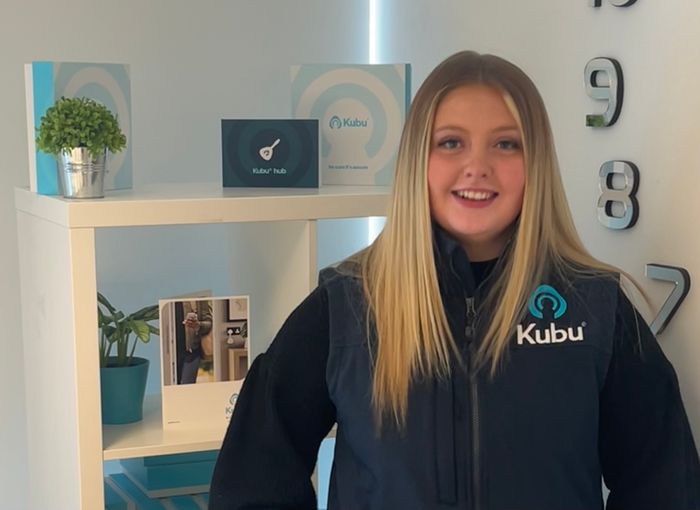 A key driver of Building Our Skills - Making Fenestration, Glass and Glazing a Career of Choice is to promote the breadth of career opportunities offered by the industry. The organisation strongly backs apprenticeships as a great starting point for those joining the industry and an employee at Kubu, the smart security specialist, is demonstrating exactly why.
Morgan Fisher joined Kubu straight from school as an apprentice in 2019. Since then, she has worked her way up to Marketing Assistant, and it is clear that she has her sights set on significant further career development.
Morgan says:
"The company took me on as an apprentice in business administration. Pretty quickly I was dealing with all sorts of areas of the business, including customer service and key accounts management. Then Covid hit and the company needed me to be very flexible and take on a broad range of tasks. I really learnt 'on the job'. You could say I was thrown in at the deep end, because Covid added to the everyday business challenges all the staff faced, but the experience shaped me and made me resilient.
"What really showcased the diversity of my skills, I suppose, was last year's FIT show. I was able to organise quite a bit of it for the company, and this did two things: firstly, it solidified an ambition in me to get involved more in marketing, and secondly it brought my work to the attention of the company's Head of Marketing, who arranged for me to join the marketing department. Now I'm handling a broad variety of tasks. One day I'm working on video production, another I'm arranging events. It's challenging but enjoyable. I've got a diverse role, and I feel quite independent now. I've really had to rely on my instincts and use my initiative, which has been good for me.
"I'm really passionate about the apprenticeship I completed. It was a fabulous stepping-stone into the career that I'm forging for myself, and I wouldn't hesitate to recommend apprenticeships to other people who are starting out and wondering what to do. I had no idea when I started out that the fenestration industry had so many roles on offer. You tend to think of it only in terms of installing windows and doors, don't you?"
Marc Henson, Kubu's Head of Marketing added:
"Morgan has been an inspiration in our team. She has proven time and again that apprenticeships really do work. With the right attitude – both from Morgan and our staff to support her progression – Morgan has become an integral part of our team, and will only go from strength to strength.
"Being fairly new to the fenestration, glass and glazing industry myself, I've got to say I'm surprised at the sheer scope of roles available – from technical IT roles, such as engineering and programming, to highly skilled manual roles and everything in between. There really is a place for everyone – and it's so friendly too!"
Building Our Skills' Partnerships Manager, Mark Handley says:

"All of us here at Building Our Skills congratulate Morgan on her success, and we wish her well in her future career too of course. She is a shining example of how the apprenticeship system can work for the benefit of both the apprentice and the business concerned."
With over 50 career paths available in the fenestration industry, Building our Skills is helping to promote this diversity of opportunities. The campaign underlines that there are a multitude of career paths, from design, manufacturing, installation, marketing, finance or IT to warehousing and many others.
To find out more, either as someone looking for a career in the industry or as an employer wanting to help to promote it as a great home for training and career progression, visit https://buildingourskills.co.uk/.