09 May 2023
Cortizo Fitshow 23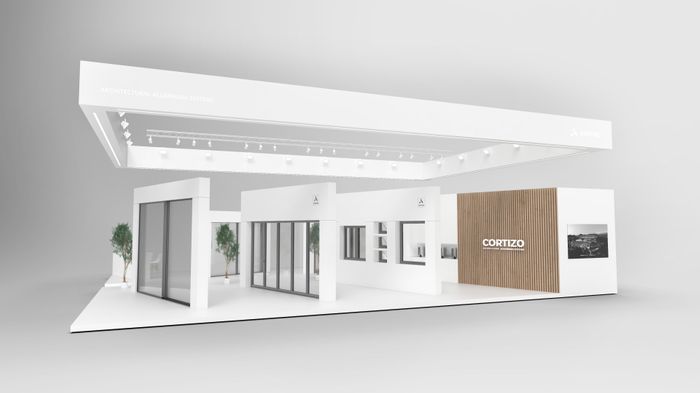 CORTIZO will go back to Fit-Show next May to show the latest updates in aluminium systems developed by the R&D team for the British market.
The Spanish multinational will be present at the National Exhibition Centre in Birmingham at the Hall 11, Stand D31 with a space of 200 m2. On display, there will be an extensive product range that combines outstanding acoustic and thermal performance with designs in-line with the latest architectural trends.
One of the main developments that will be presented by the Spanish multinational will be the new Bi-fold Plus. This system, with an 80 mm deep frame, offers and excellent thermal and acoustic performance, thanks to its 45 mm thermal break and a maximum glazing capacity of 52 mm. Besides, it presents a slim central section of 110 mm which allows the maximisation of the glazed surface area, filling the interior spaces with natural light.
CORTIZO will also be showing its main minimalist systems, such as the sliding COR VISION PLUS, a large window with a meticulous design, a minimal aluminium sightline, and a slim central section of only 25 mm. This solution allows the integration of the rail into the floor and the full embedding of the frame, thus maximising the glazed surface area. COR Vision Plus accepts configurations up to 6 sashes with maximum dimensions of 4 metres in length or height, enabling 90º corner sash configurations without mullions. Its excellent thermal (Uw from 0,9 w/m²K) and acoustic (RW=43 dB) performances should also be highlighted, as well as the results achieved in the test: Class 4 (Air permeability), 9A (Water-tightness), C4 (Wind resistance).
Furthermore, the COR VISION will also be displayed, with slim lines and a central interlock of only 20 mm. This system includes some updates, such as the option of integrated threshold in order to facilitate the transition between the interior and the exterior without any kind of obstacle. The range of Cortizo's sliding systems in Birmingham will be complete with the series 4700 Patio Door, which allows the closure of large bays, offering an excellent thermal and acoustic performance. In the stand of the Spanish firm there will also be some of the most demanded products within the British market, such as the COR 70 Hidden Sash with the Arch Invisible handle or the Casement series.
This will be the third time for Cortizo to attend Fit-show as an exhibitor. "This is an exhibition we could not miss, since the UK has become one of the most important markets for us in the last five years. Fit-show offers a unique opportunity to share not only our latest innovations in the windows sector, but also the key components of our business strategy", assures Daniel Lainz, architectural systems general manager in Cortizo.