07 Mar 2023
Garnalex's Sheerline To Take Innovative Perfectly Matched Aluminium Range to the FIT Show 2023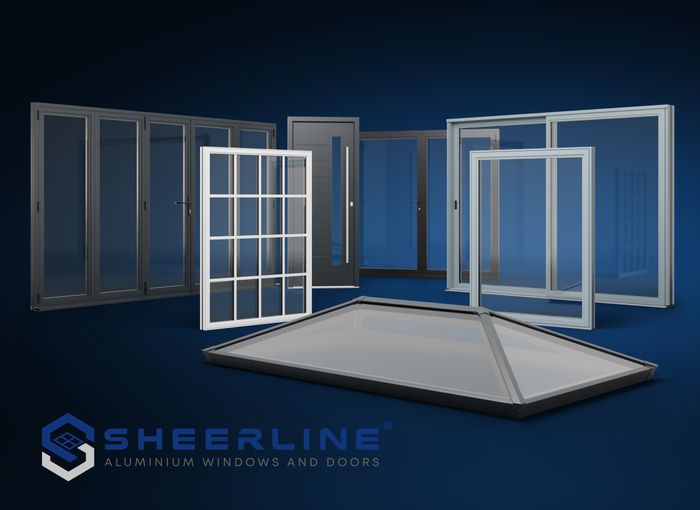 Garnalex is pleased to announce its' Sheerline brand will exhibit at the FIT Show for the first time this year. The key industry event, which is celebrating its 10-year anniversary, takes place from May 23-25 at the NEC, Birmingham. Providing the ideal platform to showcase Sheerline's perfectly matched aluminium window and door ranges.
As well as a complete range of high-performance windows, doors, bi-folds and patio doors, Sheerline will also display the S1 Roof Lantern, one of the most secure roof lanterns available in the UK which achieved Secured by Design accreditation last year.
In addition, the brand will exclusively reveal some exciting new products while exhibiting at stand Q31. These latest additions promise the same high-performance features that Sheerline's customers have become accustomed to; ease of fabrication, lots of installer benefits, and straight forward Part L compliance.
Nickie West, FIT Show event director, comments: "The representation of aluminium window and door solutions has gone from strength to strength at FIT Show over the last few years, fuelled by increased demand from end users, including commercial providers and more demanding homeowners. It's what the market wants, and I'm excited to announce Sheerline Aluminium Windows & Doors, who visitors may be more familiar with as the umbrella brand Garnalex, will help us to deliver this vital material at FIT Show 2023."
"From windows and doors through to their bi-fold doors and lanterns, our visitors will be able to see, touch and feel the entire Sheerline range, as well as speak first hand to the people behind the brand's unique approach to aluminium at the show," she added.
Attendees of the FIT Show will have the opportunity to explore Sheerline's innovative product range and find out more about Thermlock®. An alternative to polyamide thermal breaks, this proprietary technology has enabled the brand to achieve incredibly low U-values consistently across all its' product ranges.
While this is beneficial for homeowners from an energy efficiency point of view, it is also helpful from a building regulations perspective, as all Sheerline products are Part-L compliant as standard. Fabricator customers also have the option to use the brand's Thermal Calculator software to generate Energy Ratings and U-values quickly.
As well as viewing Sheerline's 'whole house' perfectly matched aluminium solutions, FIT Show attendees can learn more about how the brand operates; from agile lead times to in-house aluminium extrusion, offering sustainability without compromising on style, and in-house powder coating that helps set the brand apart from other manufacturers.
Sheerline CEO, Roger Hartshorn, said: "Attending the FIT Show is a fantastic opportunity for us. Many within the industry have heard of Garnalex, but it's time for Sheerline to take centre stage."
"What we've created is something truly special – Part-L compliance as standard with exceptional thermal efficiency offered across a fully suited range of products. With good looks that match perfectly and in-built security as standard, all delivered from our vertically integrated UK site. We invite attendees of the FIT Show to stand Q31 to see for themselves what we offer and discover what sets us apart from the competition. You won't be disappointed," he added.
The sales and technical team are looking forward to sharing the latest product developments and demonstrating the range on stand Q31.
Find out more about Sheerline by calling the team directly on 01332 978000, email: info@sheerline.com or visit the website to view the full range of products: http://www.sheerline.com