High quality shower hardware will keep you profitable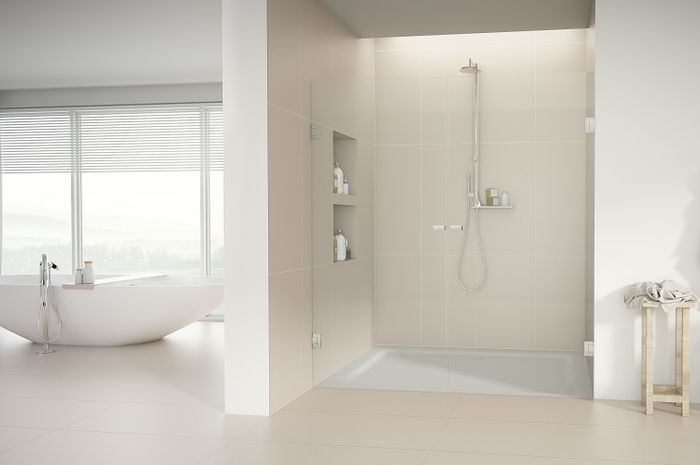 Partnering with suppliers of premium shower hardware, such as Bohle, will help you maximise opportunities in high-end bathroom fitouts, according to Stowmarket Glass's Managing Director Luke Browes.
"Shower screens are 25% of our work," Luke said. "It's not a huge amount, but it's a constant source of work, given the fact that English buildings are wonky and you need unusual shower screens, and people are regularly extending up into their attics."
Luke said that the Bilbao range from Bohle allows the Suffolk-based glass company to approach bathroom projects with confidence, because not only can they fulfil the brief, but they can effectively provide a fit and forget solution. This allows it to stay one step ahead of the competition and maximise profitability.
"We can get everything we need from the Bilbao shower hardware range – glass-to-glass, glass-to-wall, fixed clamps – and there is a good amount of flexibility within the fitting, which makes it easy for the fitters," Luke said. "And it is a nice-looking product: very minimal looking and very clean. The general customer doesn't specify a shower fitting as such, they just like the look of projects we've already completed. So, we tend to push the Bilbo range ourselves. I can't ever remember it being specified, but the second someone gets to hold a Bilbao hinge, they are immediately impressed because it is so heavy. They can tell it's well made and good quality, and that's why we push it. They also don't mind that little bit extra for it, because they appreciate the value."
Luke says leads for high-end bathroom projects continue to come in to the business, despite the general economic slowdown, providing much-needed revenue streams. Choosing the right hardware to meet this demand is crucial not only to satisfy this demand, but also to ensure profits are not lost to underperforming products.
"We use the Bilbao range of shower hardware from Bohle, because we know they are going to last," Luke said. "The products don't degrade or rust, the bearings continue to work within them, and they open and shut as they should. We're far too busy to be going back to jobs and wasting an hour here or there re-adjusting something or changing a hinge because of the quality is not good enough. We just simply don't have the time for it, and neither do our customers.
"We've been going for 30-odd years, and we plan to be here for another 30 years. So, we don't want callbacks every 10 years with shower fittings falling apart, and the Bilbo range stands the test of time."
Stowmarket Glass Company have been designing, supplying and installing high quality glass products to customers across Suffolk and East Anglia for more than 30 years. They have been a Bohle customer for most of that time, buying for all manner of products, from glass cutters, PPE, lifting equipment, all the way through to physical hardware such as glass clamps, and shower screen fittings.
More information about Stowmarket Glass can be found at www.stowmarketglassco.co.uk
For more about Bohle's product and service offer visit www.bohle.com, email info@bohle.ltd.uk or call the customer services team free on 0800 616151.