18 Apr 2023
MAKING ROOM FOR NEW EASY-TO-INSTALL GLAZING SOLUTIONS WITH CRL LAURENCE AT FIT SHOW 2023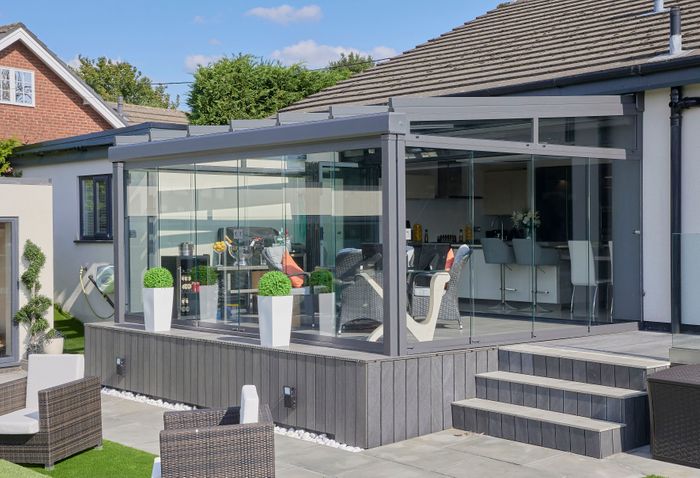 Learn more about CRL Glass Rooms at FIT 2023
Following the huge popularity of its Glass Rooms since launch, the company will preview new versions of its structure that weather-proof the garden. Offering even more flexibility in installation and design than the original modular version, these latest freestanding additions include one with a glass roof and a version with a motorised louvered roof, which doesn't require a ceiling awning. With integrated drainage a choice of four RAL colours with others available on request, and options now including fixed glass panels, sliding doors, vertical blinds, heating and lighting, CRL Glass Rooms in 2023 are a flexible all-weather solution.
Other highlights of the CRL stand at the FIT Show will include its Paris (pictured) and Juliette balconies, which are increasingly being specified for new buildings and added to existing dwellings, for practical and decorative purposes. A particularly popular option on buildings where space is at a premium, the latest systems from CRL make light work of installation and maintenance while tested to BS6180:2011 to prioritise safety.
Installation demonstrations will also take place throughout the show, with visitors able to see how innovative systems such as CRL's brand-new POSIone is to fit. Installed from the safe side with no requirement for scaffolding, the system is fixed through the base to a substrate and is adjustable to 20mm in both directions. Innovative screw-clamp technology locks the glass panels into position effortlessly, enabling the minimal, frameless glass windbreaks to be used in exposed locations on balconies and decking.