23 Mar 2023
New integral blind colours to make debut at 2023 FIT Show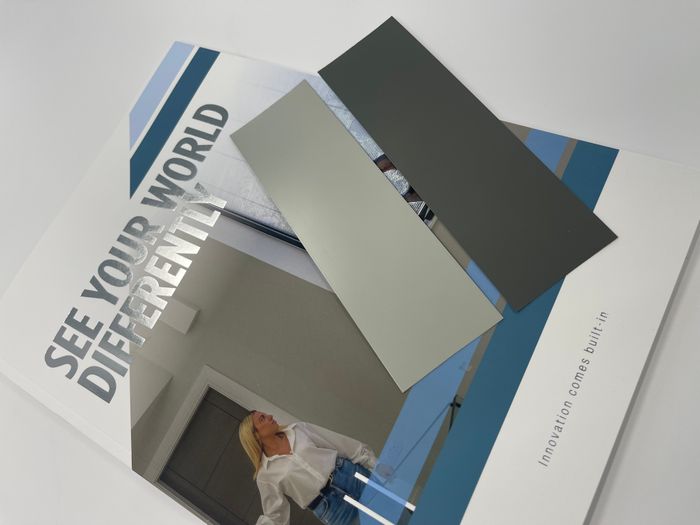 Visitors to the Morley Glass stand at this year's FIT Show will have their first opportunity to see new UK-exclusive ScreenLine integral blind colours, which have been developed to give style-conscious homeowners the perfect complement to their contemporary home décor.
We have been working closely with ScreenLine integral blind systems manufacturer Pellini S.p.A. to bring several new colour options to the UK market, ensuring that installers can provide the complete 'on-trend' windows and doors package.
In the spotlight on the 140 sq. m Morley Glass stand – L41 – will be the recently launched B160 black integral Venetian blind, which makes its UK public debut at the FIT Show. This colour has been developed to meet the growing trend amongst homeowners to coordinate the integral blinds with other black and neutral colours in their home, including black window and door frames, which are becoming increasingly popular.
Visitors will also be able to see an exclusive new Agate grey option for Uni-Blinds Venetian blinds in the form of an RAL 7038 colour, along with a darker 'slate' grey – the S158.
Another colour innovation on show will be a dual colour Venetian blind slat. This is grey on one side and white on the other, making it ideal for doors and windows where the customer seeks to retain a bright white colour inside their home, while applying a colour such as anthracite grey externally.
Ian Short, MD of Morley Glass, said: "We only ever manufacture our blinds using ScreenLine integral blind systems because the quality and styling advantages are clear to see. These latest colours developed by Pellini are exactly what the UK market needs today and, importantly, they have been tested thoroughly so we know they will remain pristine over the lifespan of the sealed unit – not all integral blind systems can offer that assurance."
All these colour innovations are the result of an extensive R&D and testing process by Pellini, which is needed to ensure that the integral blind's slats, cords, header rail, footer rail and any sideguides can be perfectly matched. The development process takes many months to replicate the conditions in-situ to check that the colour formulation will remain stable and not fade in strong sunlight, or cause any chemical reactions with the gas used to fill the sealed unit.
As with all the colours in the Morley Glass range, the new options are available for all Uni-Blinds Venetian integral blind systems – the corded C System, the motorised MB System, the W Smart solar powered blind and two magnetic slider controlled blinds, the SV and SV+.
There are no extended timescales for orders either – all these new colours are available in the usual ordering timescale for Uni-Blinds which is within 10-12 working days, when ordered by 10am on Thursdays.
All Uni-Blinds integral blind systems are made in Leeds and delivery to UK customers is complimentary. Ordering is easy too, as Morley Glass has order processors dedicated to specific integral blind systems to ensure customers receive the best advice and technical guidance from the outset.