26 Jan 2023
Reynaers CP 130 patio system proving popular for Fentrade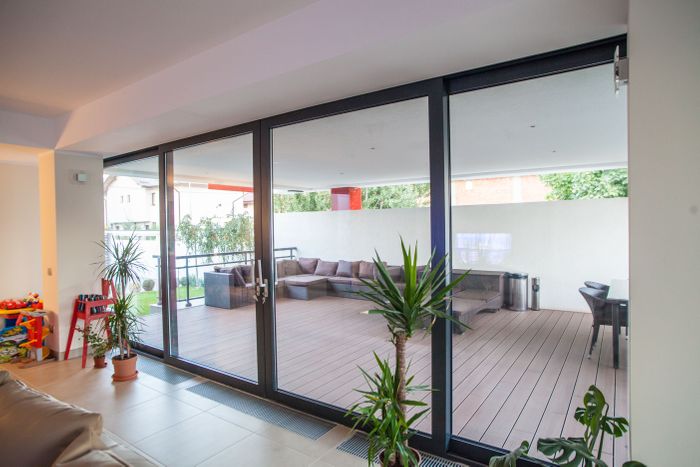 Specialist fabricator Fentrade is reporting strong sales of the Reynaers CP 130 slide and lift-slide patio system. Chris Reeks, Fentrade's Director, said: "We added the CP 130 to our range last year and it's proven to be a big seller. So many products in this space are 'me too' but the CP 130's high end aesthetics and quality construction set it apart."
Specialist fabricator Fentrade is reporting strong sales of the Reynaers CP 130 slide and lift-slide patio system. Chris Reeks, Fentrade's Director, said: "We added the CP 130 to our range last year and it's proven to be a big seller. So many products in this space are 'me too' but the CP 130's high end aesthetics and quality construction set it apart."
The CP 130 system is a versatile system that offers a multitude of ways to deliver the large expanses of glass today's homeowners and commercial contractors are looking for.
It is available in two variations: a standard sliding system and a lift-slide system. The sliding system has monorail, duo rail and 3-rail options while the lift-slide system has monorail, duo rail, 3-rail and multi-rail options. There is also a pocket solution for the lift-slide system in duo rail, 3-rail, or up to 8-rail (multi-rail) options, which creates an open space without visible elements when the door is open. The corner solution for the CP 130-LS duo rail variant answers the current architectural need for large glass surfaces with minimal visible elements.
Every element of the door reflects attention to detail and a commitment to a high quality finish. Opening panes move on durable wheels and stainless steel rails for effortless daily use. The system is impressively weatherproofed, hermetically sealed and meets all requirements for thermal efficiency as well as security. Panes can be up to 2700mm wide and 300kg in weight.
The CP 130 system is part of a portfolio that includes a full range of aluminium windows, doors, bifolds, inline sliders, GFT commercial screens, shopfronts and curtain walling from renowned industry brands such as AluK, Reynaers and VBH Greenteq. It also now includes Residence Collection window systems following the company's recent expansion into PVC-U.
Chris concluded: "We want to help our customers secure market advantage with the products that have the aesthetics and quality today's discerning consumers and commercial contractors want. The CP 130 is a valuable addition to our portfolio – and to our customers'."
– ends –