22 Feb 2023
Solutions for UK's window manufacturers to increase their productivity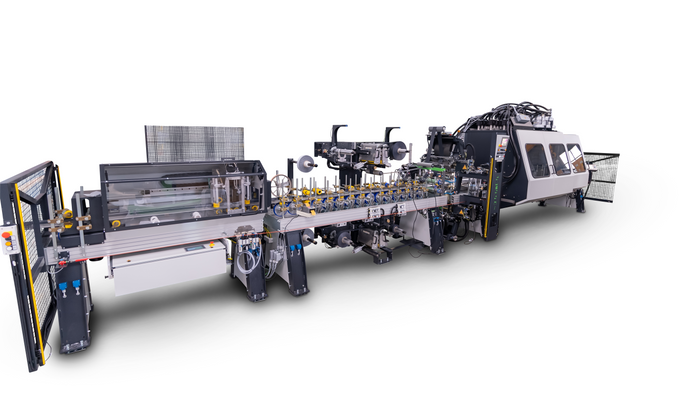 At booth M15, the manufacturer of profile wrapping machinery will present its solutions for the first time at a UK fair. In the sector, Düspohl is known as the most innovative company when it comes to foiling solutions. The company's philosophy consists of two major ideas. The first is to apply new technology to profile wrapping so users will benefit in terms of efficiency and quality. The second is to offer customised solutions consisting of basic machinery with a high standard and a large selection of components for every application in profile wrapping.
Automated solutions and reduced set-up times
High set-up times that in some cases exceed the time period in which lines will actually produce wrapped profiles have been and still are a challenge in the sector. However, at Booth M15, users will find many solutions to reduce set-up times. They range from smart mechanic solutions like a tool-less system to fix pressure rollers to highly automated solutions like the electrically driven automatic format adjustment. It features a control system including recipe management and the automatic positioning of lateral guides, brushes, transport rollers and many other components.
Live at FIT Show
As two PVC profile wrapping highlights, Düspohl is going to showcase a proven primer vacuum application system and an automatic separating system.
The primer vacuum application system, called PrimeStar, works completely without felt strips. Instead, primer will be applied by means of an application head which will be fitted to each profile geometry. Changing the application head takes less than a minute so set-up times will be reduced dramatically. Quality-wise the system allows for an absolutely uniform distribution of the primer, while the use of felt-strips always means a risk of agglomeration or a lack of primer in certain areas, depending on the profile geometry. Users also appreciate the reduced drying time. It is a proven system of which more than 100 machines are working worldwide.
The automatic separating system, SynCut 150 G, is a guillotine-type cutting unit, especially designed for the PVC processing sector. Thanks to a smart control system, it recognises the cutting point automatically and works absolutely chiplessly. The use of an automated system at the end of the line enables higher production speeds while operators will be free to focus on other tasks.