Sophisticated opening from Bohle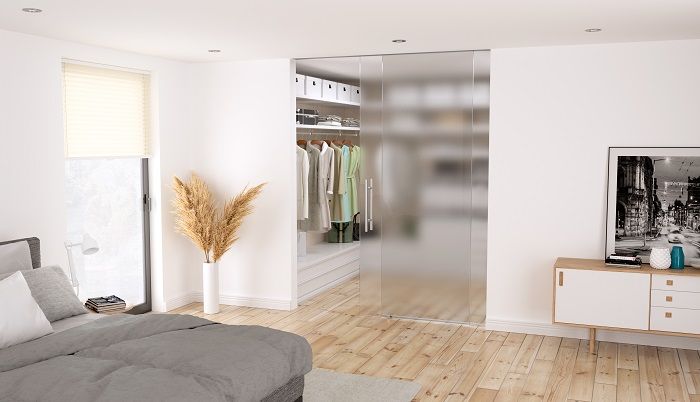 MasterTrack BT sliding door hardware from Bohle offers a new high-end solution to the increase in demand for internal glass partitioning.
"In the last few years, we've seen the amount of glass going into buildings – not just the external fabric – absolutely rocket," Bohle MD Dave Broxton said. "And for good reason. You can define specific areas very easily, and still let that most precious of commodities – light – reach every corner. Plus, if you want privacy, then there are many options, such as blinds, smart glass and interlayers, that can easily create the appearance of solid walls."
Just as the demand for glass has gone up, so too has the demand for high quality aesthetic hardware. Not only is cheap hardware evident in its use – clunky and unreliable – but subsequent call-backs eat away at the margin. This has driven building owners and installers to specify quality hardware that is not only a pleasure to use, but will continue to operate smoothly long after its installation.
MasterTrack BT from Bohle offers a sophisticated sliding mechanism that comes with the option of a hydraulically operated dampening system. There are further options of a synchronous opening, so that two doors can open at the same time, and telescopic opening, which allows two or three leaves to retract simultaneously.
"Sophistication is built into the MasterTrack BT sliding door system," Dave said. "Building on the popularity of MasterTrack FT, the BT version offers some high-end additions, such as flush mounting, and anti-jump protection. It is also suitable for space-saving pocket applications, which are increasingly popular among interior designers.
MasterTrack BT is made up of three components: track, roller system and clamping mechanism, which make both installation and use particularly easy. Its modular system means there are no limits to the room design. With only a few individual components, and thanks to the compact track in which the glass is suspended below the carriage, single and multi-leaf doors – as well as flush ceiling designs – can be installed quickly.
A simple, accessible glass clamping mechanism provides a secure hold, and means there is no requirement for expensive drilling or cutting out glass. Height adjustment of +/-3mm is also straightforward being achievable from the front of the carrier. MasterTrack is simple to install, performs reliably and looks simply fabulous.
For more about Bohle's product and service offer, or to request a brochure, visit www.bohle.com, email info@bohle.ltd.uk or call the customer services team free on 0800 616151.