A SUPPLIER PARTNERSHIP YOU CAN STAKE YOUR REPUTATION ON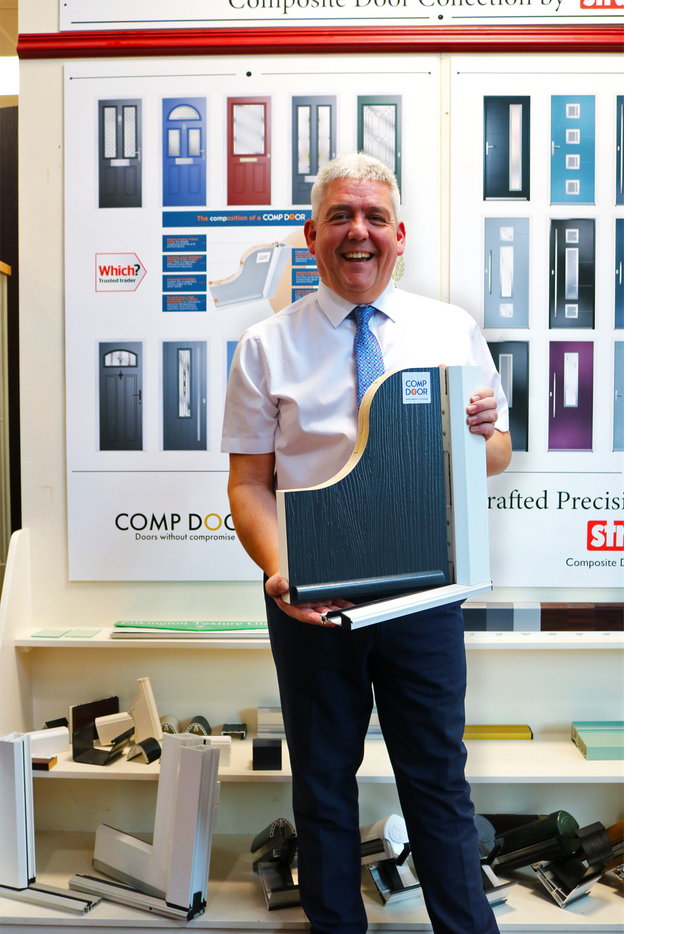 Strata Windows in Stoke-on-Trent are in it for the long haul… long term supplier partnerships, long-standing members of staff and most impressively, a customer base spanning four generations of Staffordshire families, thanks to its ability to move with the times and adapt to changes in the market.
So, it comes as no surprise that Strata's directors, Rob Dale and Ian Hackwood, were quick on the uptake of Comp Door's new solid timber core composite door, which is currently the only part L compliant door of its kind. Strata's impressive showroom has now become one of Comp Door's flagship showrooms, complete with fully glazed French doors and hardware display boards. Rob Dale, gave FIT Show a deeper insight into the history of Strata and what their future holds with Comp Door…
Rob explains, "Originally established in 1981 by Finley Walker, Strata Windows began by selling imported timber frame and aluminium sliding doors, before moving into the manufacture of high-quality hardwood windows. At a time when the industry was characterized by high-pressure sales techniques, Strata took a different approach and built a reputation on providing information in a relaxed no-pressure setting, which our customers have come to appreciate.
"Strata relies heavily on word-of-mouth recommendations and has built its reputation over the years on being reliable and offering a quality finish. This has led to unprecedented customer retention, great reviews and the recognition of Which? as a Trusted Trader. In fact, we were the first company of our kind to be given the endorsement in the Staffordshire/Cheshire region. So, partnering with the best suppliers of the best products is paramount.
"The business now occupies 10,000 sqft premises in Stoke-on-Trent and has seven teams of experienced fitters. Our showroom is well known in the local area for the 4 full size conservatory and orangery style buildings we have, complete with all the latest doors and roofs available. And after experiencing some disruption to the supply of composite entrance doors from our previous supplier, Richard Diliberto's phone call from Comp Door couldn't have come at a better time.
"The guys at Comp Door have been a great help in getting us set up. They're always there to help and have been quick to resolve any issues we've had. In fact, our Operations Director, Paul Wright, who used to be a fitter, has worked alongside Comp Door's technical Director, Pierre Mifsud, to develop Comp Door's next new product launch, the stable door.
"The Comp Door product not only looks great and is good quality, but it is also very reasonably priced and since launching the Comp Door range in October, sales have been incredible! The new additions to our showroom always catch the eye of visitors. Comp Door has kitted us out with 5 working doors including a fully glazed set of French doors, as well as 6 slabs, a POS board of styles and hardware board showing the Coastal Blu range.
"One feature of a Comp Door solid timber core composite door that our customers have really appreciated, particularly our older clients, is the auto-fire slam shut lock as standard. This has proved a real selling point for homeowners that have struggled to operate doors with single latch and lift levers. Comp Door's standard automatic multi-point locking system features four self-locking, deadbolt latches that activate when the door is closed and keeps the door latched at all times over the full height of the door, requiring no homeowner intervention as with a single latch and lift lever, thus eliminating the chance of the door not being secured properly, and helps to combat excessive thermal movement that causes warping or bowing associated with some other brands."
To find out more about how Comp Door can benefit your installation business, please email info@compdoor.co.uk, call on 01782 340444 or submit an enquiry form at https://compdoor.co.uk/contact-us/. Find us on social media for all our latest news and inspiration at https://qrco.de/bdJ6NM.