04 Apr 2023
Unwrap one of twenty-five sweet chances to win with Morley Glass!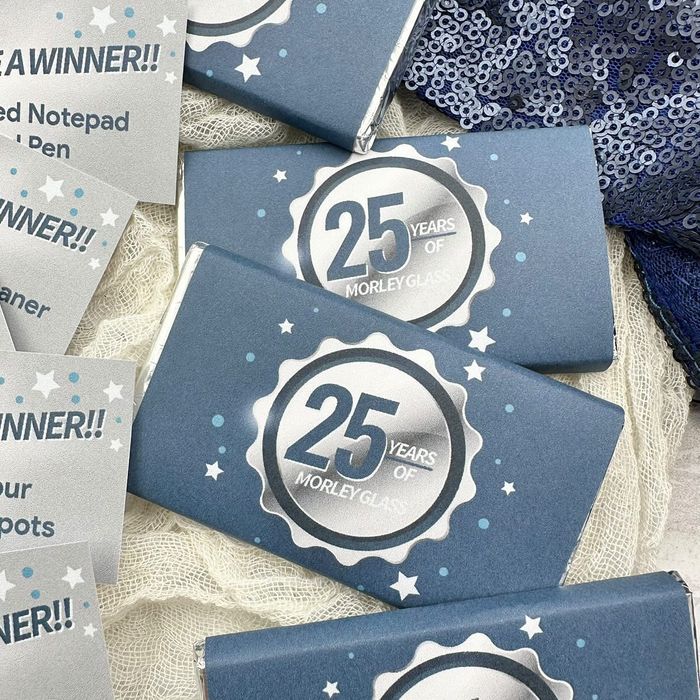 Morley Glass is giving every visitor to our 2023 FIT Show stand the chance to win one of 25 exciting prizes as part of our 25th anniversary celebrations, simply by opening a free bar of chocolate!
All visitors need to do is pop along to our stand at L41, pick up one of our specially produced chocolate bars and unwrap it to see if they are a winner. Printed inside the wrappers of 25 of the chocolate bars is a winning token with details of the prize – anyone lucky enough to have one of these will win whatever is printed on it by presenting it to a member of the Morley Glass team.
An excellent range of prizes is available to win. From luxury treats, such as a bottle of champagne, to high value integral blind packages including a package of four Uni-Blinds integral blind units worth over £1000, it is a fantastic opportunity for FIT Show visitors to leave the event with something special.
The giveaway is part of the 25th anniversary celebrations of Morley Glass as we mark our quarter century at the same time as the FIT Show reaches its tenth year.
Ian Short, MD of Morley Glass said: "It's a big year for us so we will be doing lots of things to celebrate over the coming months, starting at the FIT Show. So what better way to say a little 'thank you' to anyone taking time to visit us at our stand to explore our integral blind systems, than with a chocolate bar – especially one that could make you a big prize winner!"