22 Mar 2023
This is how window installation works today! Avoid window breakage with the right equipment.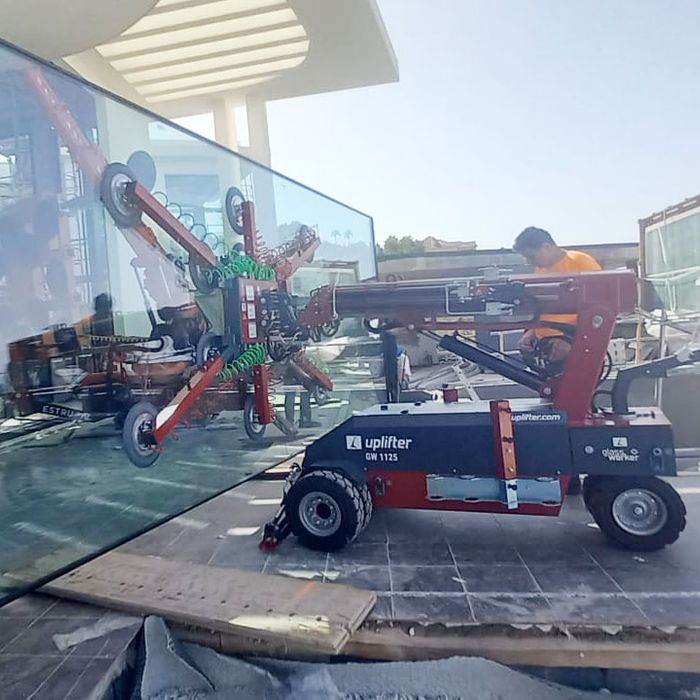 In everyday use, glass usually refers to transparent silicate glasses such as drinking glasses and window glasses, which consist mainly of quartz sand or silicon dioxide and belong to the group of inorganic glasses. Float glass is also called silicate glass or "real glass". It is very commonly used and is the basis for many glass products, such as window panes.
Typical characteristics of glass:
Transparent to a certain degree
Can withstand great loads, but is also fragile
Tasteless and gas-tight
Combination with many materials possible without interaction
Malleable at very high temperatures
Dimensionally stable at cool temperatures
Environmentally friendly and recyclable
Minimise risks when working with glass
Glass is therefore a versatile material that we frequently encounter in our daily lives. Glaziers, window makers and fitters have to deal with this special material every day. Especially its fragile nature is often a challenge even for the professional. To avoid injuries from shattered panes or sharp glass edges, the glass professional always wears good protective equipment, which includes gloves. To avoid the risk of damage to the pane or even glass breakage, there are special transport aids and electrical assembly aids that work with vacuum.
It is important to know that modern glazing units consist of several panes that are firmly connected to each other. The spaces between them are filled with a gas mixture in order to achieve better insulating properties. A window pane like this is very sensitive! A slight knock or impact is often enough to cause the pane to crack and, in the worst case, the entire unit may even have to be disposed of. The professional knows: placing the glass panes on concrete or other hard surfaces is to be avoided at all costs. Whereas in the past soft underlays such as felt blankets or polystyrene sheets were used and the heavy pane had to be lifted by several people, today glass transport trolleys and other transport aids are indispensable equipment on the construction site.
Equipment that the professionals trust
The powder-coated UPT600 OUTDOOR glass transport trolley from Uplifter is particularly popular: with a load capacity of 600 kg, it is suitable for materials of all kinds. Elements up to a maximum of 6,000 x 3,500 mm and a panel thickness of up to 140 mm can be transported safely and easily. The pneumatic tyres are particularly suitable for outdoor use. In addition, each wheel of the transport trolley can be locked separately. This window transport frame can be dismantled without tools in just a few steps and thus fits easily into any van or estate car. It couldn't be more practical! In the Uplifter range you will find many more useful transport aids that will make your work much easier: In the UPL series, all transport aids are equipped with large all-terrain tyres and can thus effortlessly drive over almost any surface. Different versions with a load capacity of 400 to 600 kg cover almost every application. A particularly clever solution was developed by Uplifter's own production - special construction department: The transport helper UPL-C400 is the ideal helper to move panel material, frames or similar. Due to the movable clamping jaws, the goods to be transported are fixed in the transport helper by their own weight. With the pneumatic tyres, transport is no problem even on uneven terrain and over small obstacles. By the way, the practical handles can also be used to attach a lashing strap to additionally secure the load.
How does the window installation work?
When installing the windows, the glazing is usually removed first and only the frame is screwed to the wall. Then the pane is reinserted. If the local conditions and the weight of the pane allow it, gloves and a practised grip are sufficient. An important service here is provided by so-called hand vacuum cleaners, which are attached to the pane gently by means of air pressure and thus offer the craftsman a good grip. Hand-held vacuum cleaners are available in manual or fully electric versions with a load capacity of up to 170 kg. Convince yourself of the Uplifter bestsellers among the hand vacuums!
Solutions with vacuum technology
The trend is still towards oversized glass fronts. So if the pane is too heavy, unwieldy or the way to the corresponding window is not passable with the pane size, then the professional relies on a glass vacuum. Did you already know? In combination with our range of mini cranes and glassworkers you can lift and install any glass pane with our vacuum lifting devices, regardless of height, position and size. We offer the right glass suction cup and crane for every application, whether indoor or outdoor. Let us advise you right away about the available Uplifter models of suction pads, vacuum lifters, crane systems and counterweight systems. Thanks to our many years of experience and our diverse range of lifting and vacuum technology, we are always able to provide you with the optimum machines and equipment for both small and large jobs, right up to complete assembly concepts. With Uplifter you get everything from one source: development - production - rental - sales - service. Trust in the market leader!
Tags: Transport, Mini crane, Vacuum suction cup, Glass lifter
https://youtu.be/uSlLeWbix50