13 May 2022
"IT WAS GREAT TO MEETHUP! ONCE AGAIN"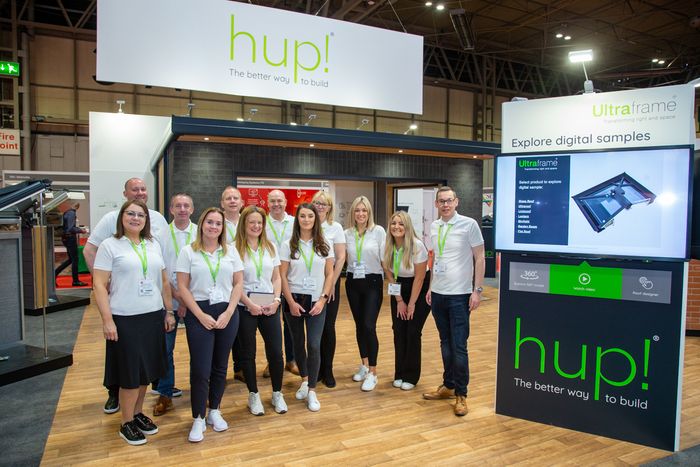 The Ultraframe team has proclaimed how fantastic it was for the industry to finally meet up again at the FIT Show, where the company launched its revolutionary new hup! building system to huge accolade.
The hup! system, which was seen for the first time at the show, offers a better way to build home extensions and conservatories, with a fast to build, highly energy efficient wall solution that can be used with any Ultraframe roof. This flexibility means that installers or builders can create every possible style of home extension, orangery, or conservatory, quickly and easily. In fact, hup! extensions can be built five times faster than ones using traditional build methods.
Commenting about the success of FIT Show 2022, Ultraframe Marketing Director, Alex Hewitt, said: "It really was fantastic to get back face-to-face with the industry at this year's FIT Show after a long absence due to the lockdowns of the last few years. We were extremely excited not only to meet again with our peers, but also to show our new hup! building system for the very first time. The response we received was amazing, with many installers saying why would they ever build with bricks and mortar again!"
hup! at a glance:
Five times more energy efficient than the average UK home, hup! uses Building Regulation compliant materials.
Fewer trades needed for easy project management - no brickies, just one conservatory fitting team.
Five times faster to build than traditional methods, hup! enables installers to collect cash quicker. 10m² of wall can be assembled in minutes!
Manufactured off site, no cutting needed on site, reducing waste and time.
Ultimate design flexibility – choose your own claddings and windows & doors, and design, specify and price each project in easy-to-use software.
Despite rising material costs, the specified hup! price won't fluctuate.
Engineered by Ultraframe using BBA approved technology and manufactured in a BBA approved factory, with hup! you can be assured of a consistent high-quality finish. Comprehensive training means that fitting teams are confident and competent.
Along with the revolutionary hup! building system, visitors to the Ultraframe stand were also able to see the new Vista and Flat Roofs along with learning more about the company's marketing support and existing systems such as Glass Roof, Ultraroof, and Livinroof.
Concluding, Alex said: "The hup! system is truly unlike anything else on the market and it was wonderful to receive such a positive reaction to it at the FIT Show. We're really looking forward to seeing pictures of hup! builds over the coming months and hearing that it has made life so much easier for our customers."
To find out more about the new hup! building system, visit www.ultraframetrade.co.uk