14 Jul 2023
Alunet Systems launches NEW residential range - ALUNA!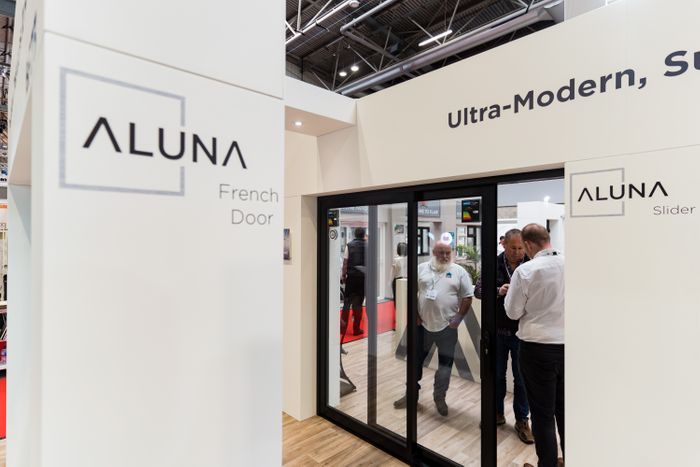 West Yorkshire-based Alunet Systems were back on the scene at this year's FIT Show 2023 for their 4th debut at the show, where they introduced their new range of products known under the residential brand of ALUNA.
ALUNA is defined by the strength, reliability and cohesion of its aluminium products, with security being of the utmost importance when designing and bringing the new range to the market.
As the fastest growing aluminium systems supplier based in the UK, product development is a key focus at Alunet Systems. The ALUNA range hopes to appeal to prospective new clients and homeowners as a recognised doors and windows range. The new ALUNA products on offer include the smooth Bifold system, the French door, the range of Entrance doors, the Glazed door, the Sliding door, the ALUNA Window and the Flat Roof Light – all of which are PAS 24 certified and have impressive U-Values ranging from 0.68 U/m2K – 1.4 U/m2K. Although some of these products are familiar systems from Alunet, they now include new slimmer sightlines and slimmer interlocks to ensure a contemporary feel that has evolved with customer demands. While aesthetic cohesion and modern design were paramount during the production of ALUNA, Alunet ensured that these would in no way impair the quality and security of the products. This decision to provide products that were both reliable and stylish has resulted in a range that allows customers the choice of endless customisation options to suit any home – including colour, width, glazing types and hardware options - without the risk of damaging the integrity of the property's security. What sets ALUNA apart is its exclusive use of aluminium in the products, a material that is renowned for its strength, durability and security. The hard-wearing nature of aluminium means the products can be maintained for decades, which is why ALUNA offers a 10-year guarantee and a fitter-friendly design to provide peace of mind to both homeowners and suppliers.
The range brings an exciting new chapter for Alunet Systems, incorporating some of the familiar and reliable systems with a modern, fresh aesthetic that ties the new products into seamlessly cohesive collection. To provide more detailed information about the many details and options available in the ALUNA range, Alunet Systems also offer a product brochure for customers to gain a deeper understanding of the products and systems on offer.
Steve Kendrick, Managing Director of Alunet Systems, was keen to share his excitement about the new launch. Steve explains, "The whole team have been working incredibly hard to expand our product offering, with a full-service residential range. Building on the success and industry trust of the BF73 system, we have partnered with the highest quality suppliers from around Europe to offer our sliding door system, flat roof lights and a brand-new entrance door range, as well as launching our own aluminium window system. Our clients can now offer their customers this full product suite, safe in the confidence that they will be getting the same levels of service and quality that we are renowned for at Alunet Systems."
The team also caught up with some of their existing customers at the show. Pete Gray from Prime Glazing said of the range: "As a fabricator and manufacturer of Alunet's products, it's exciting to see the ALUNA range. It's great to be able to view it, and we are looking forward to getting started with the new range and getting it out to our customers."
The growing company are always looking for ways to expand their business and the businesses of their clients. To become an Alunet Systems approved fabricator, or to look into what the ALUNA range can bring to your business, please call 01924 350110 or email us at info@alunetsystems.co.uk. You can also find more about the new ALUNA range at www.alunetsystems.co.uk