15 May 2019
ALUTECH SYSTEMS UNVEILS FIT SHOW STAND PLANS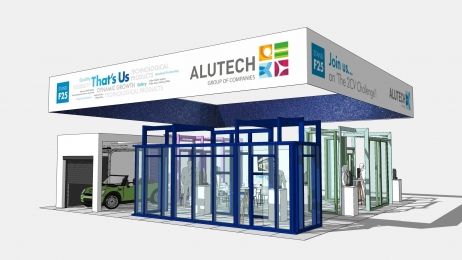 Aluminium profile supplier, Alutech Systems Ltd, has unveiled its stand plans for FIT Show 2019, the 3-day exhibition dedicated to the window, door, flat glass, and components market that takes place next week (21st-23rd May 2019, NEC Birmingham).
This will be Alutech Systems' second appearance at the show, since it's debut in 2017. In that time, the company has enjoyed significant and consistent growth. So, it seems fitting then, that their stand space is even bigger than before at 144 sqm to represent their growing presence in the UK market and to accommodate their increased product offer.
Visitors to stand F25 in Hall 20 can expect to see aluminium profile systems for residential for Bi-folding doors, Lift & Slide doors and Casement windows, Commercial systems for Facades, Curtain Wall and Louvre systems, Automated openers, Sectional Garage Doors, Roller Garage Door, Garage Door Automation and an exciting first chance to see the new Aluminium Residential Entrance Door.
Alutech Systems MD, Steve Hudson, says, "We're keen to meet fabricators looking for a refreshing approach from their aluminium supplier and looking forward to catching up with our existing customers to chat about what the future has in store for them with our growing business."
Challenge Us... To Go the extra mile!
Steve explains, "We're renowned for our excellent customer service and honesty, so when it comes to ordering and delivery, we're sure that we'll exceed expectations."
Tell Us... Your Own Personal Challenge!
"We like to do things a bit differently and engage with our customers on a personal level," says Steve. "That's why we want to know what makes you tick by asking you to tell us your biggest personal challenge this year. We'll support the winning entry in achieving their goal."
Support Us... On the 2CV Challenge!
Alutech Systems is asking visitors to help them raise £100,000 for Dementia UK and be in with a chance to win a chance to join 'Team 2CV' on their road trip from the French Alps back to the UK. You can see the classic Citroen 2CV car on the stand that will be making the journey and find out the company's motivation behind the challenge.
Join Us... For a Coffee and a Pastry!
"We'll be at the show, bright and early," says Steve, "kicking off the seminar programme in Discovery Theatre with the first slot of the first day of the show when myself and MD of Boss Digital, Dan Holt, will give actionable steps to help fabrication businesses of all sizes to establish a clear identity and powerful online strategy that drives everything from their search engine marketing to social media."
To arrange a time to speak to the Alutech Systems' team on stand F25, please call 01924 350110. Register to visit the show for FREE: http://bit.ly/AlutechFITShow2019
Call: 01924 350 110, email: info@alutechsystems.co.uk or visit Systems at: alutechsystems.co.uk
Garage Doors at: jdukltd.co.uk Group at: alutech-group.com/en
image011.png@01D46081.17F1FE90" /> @AlutechL image004.jpg@01D362DB.43C06B00" /> Alutech Systems/Alutech Garage Doors image012.jpg@01D46081.17F1FE90" /> Alutech Systems Ltd