22 Feb 2023
B2B Takes on New Meaning as Made for Trade is Faster to FIT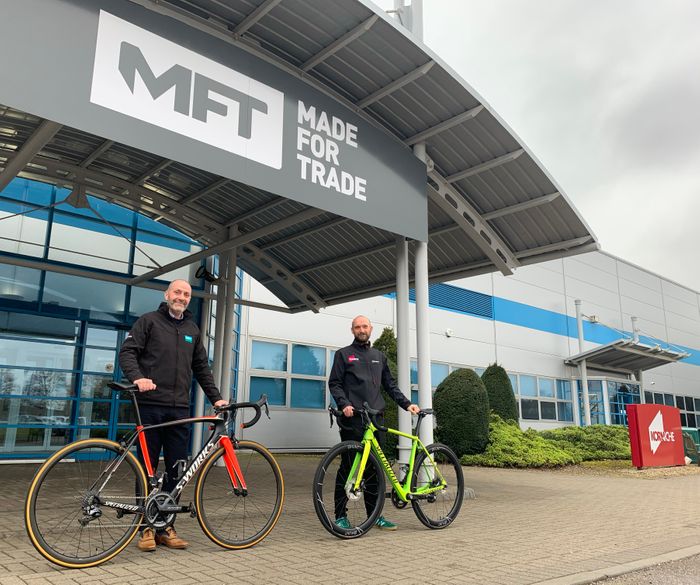 North East-based firm set for charity fundraising ride en route to May's industry exhibition
For a business titled as 'Made for Trade' - selling market-leading fenestration products direct to business trade partners and installers - use of the term 'B2B' is suitably commonplace. In May 2023 however, 'B2B' will take on a new meaning altogether for MFT, as two staff are set to make the journey from Billingham to Birmingham by pedal power alone, all in support of Cancer Research UK.
Dubbed 'FASTER 2 FIT', the Billingham to Birmingham trek will see Made for Trade Operations Director Chris Wann and Business Development Manager Leigh Greenwood partner up to ride from a start line at MFT's Northeastern HQ to the National Exhibition Centre in the West Midlands on Monday 22nd May.
Setting off at dawn with the aim of approaching their destination by 5pm on the same day, the pair will arrive just in time for the opening of FIT Show 2023 at the Birmingham NEC the next morning, on Tuesday 23rd May. The 200-mile ordeal will certainly test the FIT-ness of the MFT staff, and the time pressure is on to complete the journey before set-up doors close on the Monday evening, since the two bikes are set to form an intrinsic part of the MFT display.
Alongside the Korniche Bi-Folding Door system and Korniche Lantern Roof on display and for demonstration to customers, this year Made for Trade will also showcase a podium for the first time on Stand Q11. This podium is not another game-changing MFT product to revolutionise the market, but a display piece for Chris and Leigh's bikes to raise awareness and generate donations for Cancer Research UK.
The branded podium will detail the full challenge backstory, along with current sponsors and a prominent QR code intended to encourage as many attendees as possible to scan and donate for the three-day duration of the 2023 exhibition. In excess of 6,000 attendees are predicted alongside 100+ exhibitors; and both individual attendees and corporate sponsors are encouraged to join the fundraising efforts; showcasing the generosity within the fenestration industry to help further fund the life-saving work of Cancer Research UK.
FIT Show is the UK's premier event dedicated to the window, door, hardware and flat glass industry, and since their first appearance at the 2016 event, Made for Trade have returned to each one – both before and after the forced pandemic hiatus – exhibiting the enviable award-winning products that have seen them grow into a leader in aluminium fabrication.
From inception and throughout those events with MFT presence, one factor that sets FIT Show apart from other glazing exhibitions is the networking and sense of community on show from the industry. This year's charity ride is set to raise funds for an extremely worthy cause and increase awareness of the challenge faced not on the road to Birmingham by the MFT duo, but by Cancer Research UK and those it supports in beating cancer.
Speaking of FASTER 2 FIT, MFT's Operations Director, Chris Wann, said, "The incredible work done by Cancer Research relies heavily on fundraising and donations, and when it comes to the fenestration world, there is no better place to highlight the industry's community and generosity than at the FIT Show. Being able to take on this challenge allows us to raise vital funds in the fight against cancer."
Support Chris and Leigh at: