26 Mar 2019
CAMDEN LAUNCH NEW PATIO DOORS AT THE FIT SHOW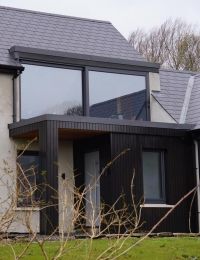 The Camden Group has chosen the FIT Show to launch their innovative oversize sliding patio door.
The profile have been specially engineered to ensure the PVCu door frames are strong enough to take the extra size of the glazing units. Until now PVCu were limited in size and the only option for householders wanting large doors would be aluminium or bi-fold doors.
The new patio door comes with a 15-year guarantee, boasts an 'A' energy efficiency rating and is available in a choice of 7 colours, with bespoke colour options also available. The new patio door also has the option for 40mm triple glaze.
To ensure the large door operates efficiency it is seated on an 'easy track glide system' for ease of use and can be supplied with triple glazing if required.
Roy Harrison, Camden Group Sales Manager, said: "This development taps into the current fashion in improving outside space accessibility, which has taken the home improvement industry by storm. Bigger doors allow more natural light into the home and can increase the property value.
"We originally showcased the super-large sliding door at the last FIT Show at the NEC in Birmingham as a prototype and reactions were very positive.
"Our design and production teams have spent the last two years refining the specifications. We are very excited about it and we are here now, officially launching it."
Roy said customers will have complete peace of mind with the Camden doors because they control the whole production and delivery process, "We extrude the high impact PVCu frames on-site, and therefore have complete control over the quality. We can supply patio door frames up to 2.4m in height and the four-hook bolt locking systems are also fitted for peace of mind.
"Sliding doors have a number of advantages over bi-fold doors — they don't create the same barred effect when they're closed, they take up less space and they're much easier to maintain through their working life."
To keep with Camden's environmental policy the new door is made from 80% recycled PVCu content.
The company currently recycles approximately 160 tonnes of plastic each week at their purpose-built factory in Antrim. Roy added: "Our customers can be assured that when they have their windows changed, their old plastic frames are not going in to landfill, they come back to us to be recycled into other products."
Camden will be displaying their popular range of PVCu doors and windows, plus an exciting new contemporary door design, on their 108 Sqm stand and they welcome visitors to come along and see for themselves the quality of the products they manufacture.
Camden staff will also be demonstrating their new innovative company mobile app, that will enable easy ordering and pricing for installers on the move.
Camden Group can be found on stand R30 in hall 7, at the FIT Show 21-23 May 2019.