20 May 2022
CERTASS STAND ROCKS AS PIGS BRINGS THE PARTY TO FIT SHOW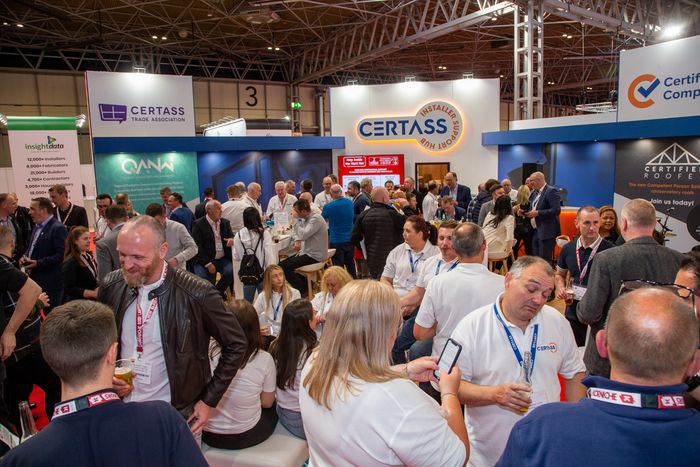 PiGs was the place to be at FIT Show's Late Night Wednesday, as more than 250 visitors and exhibitors descended on the Certass stand to once again show how the glazing industry can party!
Live music courtesy of Ellie Jones & The Giants and a free bar serving up more than 1,500 drinks over the course of the three-hour get together, made it a truly memorable evening.
"What a night!" says PiGs organiser Sarah Ball of Balls2 Marketing. "It never ceases to amaze me how much fun these events are and it was amazing to see so many people enjoying themselves. I had so many great conversations and everyone was having a wonderful time. At Balls2 Marketing, we are happy to organise these events for our industry and all the sponsorship money goes towards the evening's expenses on food, drink and entertainment.
"As part of PiGs 2022 we are supporting the We Mind and Kelly Matters charity to raise awareness and money for mental health issues. We sold PiGs badges and slippers throughout the show to raise funds. The glazing industry once again showed just how incredibly generous it is as we raised more than £845!
"As usual, a special thanks goes out to all our sponsors, whose ongoing support make these events possible – and also a big thank you to Certass for hosting."
The 29 sponsors for FIT Show PiGs were: aïr, APECS, APS Aluminium & Plastic Solutions, Arkay Windows, Bison Frames, Business Pilot, CiiLOCK Engineering, Edgetech, Everglade, Extrudaseal, FIT Show, The Georgian Bar Company, Glas Trösch, Glazerite Wind, Glazpart, Kall Kwik, Kubu, Morley Glass & Glazing, Origin, QANW, RegaLead, Selecta Systems, Sol Conservatory Roofs, Strongdor, Supalite, Thermoseal Group, Unique Window Systems, VEKA, Window Ware and Yale Door & Window Solutions.
"Our late-night event was a huge success at FIT Show 22, and a key factor in this was the amazing support we received from PiGs," says Nickie West, FIT Show Event Director. "We had anticipated that people would be ready to get back together, reconnect and celebrate, but hadn't expected them to be literally dancing in the aisles. A big thank you to PiGs for all their support, it really is appreciated."
There are three more PiGs events taking place this year - making its Bristol debut on 23 June and returning to Birmingham on 29 September – both at Revolution De Cuba. Then PiGs is going international with a special event in Las Vegas on 19 October in conjunction with GlassBuild America – venue to be confirmed.
To find out more about PiGs or to become a sponsor, just email sarah@balls2marketing.co.uk or contact PiGs at sty@peopleinglazing.co.uk. Go to www.peopleinglazing.co.uk/upcoming-events/ to sign up for Bristol PiGs.