28 Mar 2019
CHALLENGE US…TO GO THE EXTRA MILE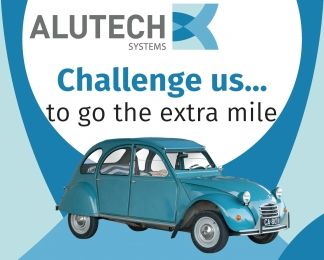 From their stand F25 at FIT Show 2019, Alutech Systems will be asking visitors, "What's your biggest personal challenge this year? And how can we help you to achieve it?" To mark the official launch of their charity road trip, 'The 2CV Challenge', the aluminium systems house is inviting fabricators and installers to tell them their biggest personal challenge this year and has pledged to support the winning entry in achieving their goal.
Next year, Alutech Systems MD, Steve Hudson, will go the extra mile for charity with a road trip from the Alps back to the UK in a 2CV car. The aim of 'The 2CV Challenge' is to raise £100,000 for charity by asking fabricators and installers to suggest daring or humorous challenges for 'Team 2CV' to attempt on the road trip and then place bets on them being completed. The road trip will be live-streamed so everyone can join in the capers.
There will also be a chance to win a place on 'The 2CV Challenge'! Visitors to stand F25 will be given one chance to guess the correct key code to open the automated garage door on the stand. The first visitor to enter the correct code will be able to join 'Team 2CV' on 'The 2CV Challenge' road trip in France next year.
These initiatives are part of Alutech Systems' brand strategy to go raise the bar in terms of customer experience by always going the extra mile. Steve explains, "Our goal is to transform what a customer expects from their aluminium systems supplier, by bringing in the values and experiences of other markets where customer experience is everything and nothing is too much trouble."
Alutech Systems will kick off the seminar program on the first day of the FIT Show in the Discovery Theatre, when Steve and MD of Boss Digital, Dan Holt, will discuss business health, brand identity and marketing strategy. "We want to support good business practise and successful strategy so that our industry can thrive," says Steve.
For Alutech Systems, this means establishing new accepted levels of customer service. For example, they take time to individually wrap each length of profile for every customer order to ensure it arrives in perfect condition, cutting down on time spent by the customer on remakes and returns. "We also understand that our customers appreciate flexibility when it comes to delivering profile," Steve says, "That's why our delivery fleet has no fixed delivery schedule, which allows us to be more responsive to customer needs."
Last year, Alutech Systems' UK sales grew in excess of 25% on average month-on-month, with a range consisting of aluminium systems for windows, doors, façades, louvre & brise soleil and internal partitioning, sectional and roller garage doors and garage door automation. Steve adds, "We can deliver dual colour profile in one week. Our powder coating and anodising service and stock management system means we are constantly in stock and ready to deliver in a short lead time."
Alutech Systems Ltd is the UK operation for the Alutech Group, which designs, extrudes and delivers architectural aluminium systems to over 40 countries around the world, with a manufacturing capacity of 45,000 tonnes per year from a manufacturing facility of 35,000 m2, making it one of the largest aluminium extruders in the world.
To submit your personal challenge, win a trip to France or find out more about Alutech Systems' brand values and customer service promise, visit stand F25 at the FIT Show 2019: http://bit.ly/AlutechFITShow2019