13 Jan 2023
Comp Door celebrates a successful year one with a second time at FIT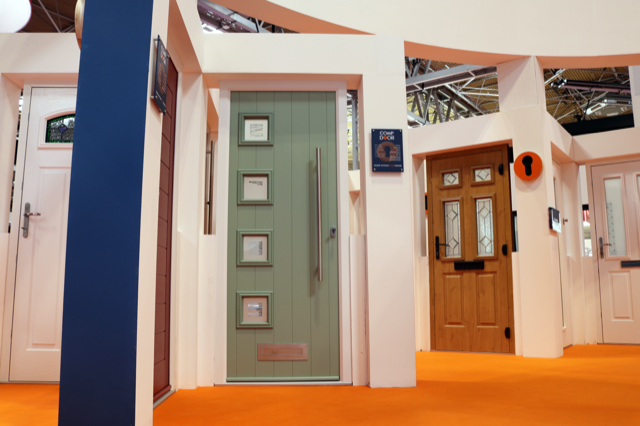 Comp Door burst onto the scene when it made its debut at FIT Show last year. Since then, it has been taking the industry by storm and is now celebrating a successful year one and first birthday with the announcement that it will be returning to FIT Show for a second time in May this year. Comp Door's solid timber core composite door won industry-acclaim last year when it became the first door of its kind to meet Part L regulations and was recognised by G22 awards as a finalist in the New Product of the Year category.
The company began manufacturing in March last year from its impressive 46,000 sqft factory in Staffordshire. Since then, Comp Door has quickly become the solid timber core composite door of choice for installers and homeowners looking for a dependable, part L compliant composite door. To accommodate such rapid growth, Comp Door recently appointed Lee Marriott as Business Development Manager to work alongside Sales Director, Richard Diliberto, and Lee Williams in the sales team.
Comp Door's first year also saw the launch of several new products, including French Doors and Arched Frames, with Stable Doors also currently in development. All these products and more exciting new concepts will be on Comp Door's stand K31 at FIT Show's 10th anniversary in May 2023. There will also be opportunity to meet the team and see first hand why more and more installers are buying from Comp Door?
Richard commented, "We've had a spectacular first year thanks to the support we've had from installers, many of whom we had initial conversations with at our first FIT Show in 2022. We're looking forward to returning to the NEC in May to present our new products and concepts, and to catch up with our existing customers and hopefully meet some more new ones."
Thermal movement can be part of any composite door product. But the team at Comp Door have succeeded in creating a reliable product for trade customers that has put an end to them having to do multiple call backs to fitted doors that should perform well over time, something that is all too common in the current market.
Comp Door's unique cross-laminated Albasia Falcata solid timber core combined with a slam shut, auto-fire lock as standard. This automatic multi-point locking system features four self-locking, deadbolt latches that activate when the door is closed and keeps the door latched at all times over the full height of the door. It requires no homeowner intervention as with a single latch and lift lever, thus eliminating the chance of the door not being secured properly, and minimising the thermal movement that causes warping or bowing associated with some other brands.
The solid timber core is then bonded with revolutionary, high-performance CoolSkin technology, engineered to withstand extreme temperature changes and maintain optimum impact performance, with a colour protective layer so that it won't get worn away or chipped. Comp Door's technically advanced InvisiEdge system gives a seamless colour edge to the door faces. This also helps to stop any unwanted water penetration and protects your timber core, while staying discreetly concealed behind the beautiful Comp Door exterior.
You will find Comp Door on stand K31 at FIT Show 2023 at the NEC Birmingham, 23-25 May. To make an appointment or to find out more about how Comp Door can benefit your installation business, please email info@compdoor.co.uk, call on 01782 340444 or submit an enquiry form at https://compdoor.co.uk/contact-us/. Find us on social media for all our latest news and inspiration at https://qrco.de/bdJ6NM.