14 Jan 2022
CR LAURENCE TO SHOWCASE 'GLASS ROOMS' AT FIT SHOW 22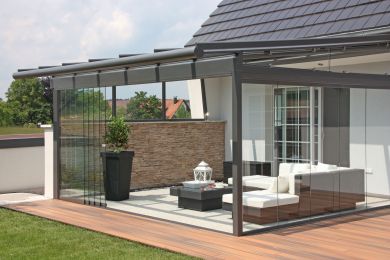 CR Laurence (CRL), one of the leading wholesale distributors to the glazing, industrial, construction, architectural, hardware and automotive industries, had signed up to exhibit at FIT Show 2022.
FIT Show, the UK's leading event for the glazing industry, returns to the NEC Birmingham from May 10 - 12. CRL will utilise FIT Show as a platform to showcase its range of glazed solutions to fabricators and installers.
Speaking about its decision to exhibit at FIT Show 22, Simon Boocock, MD of CRL Europe comments: "FIT Show offers a very effective way for us to introduce our brand and range of solutions to new customers within the glass and glazing industry, as well as to highlight new products to existing customers and gain their feedback.
"The event attracts everyone from fabricators and installers through to architects and specifiers, giving us a unique opportunity to engage with a wide yet appropriate audience."
Amongst the products FIT Show visitors will be able to see is CRL's Glass Room solution. Simon continues: "A highlight of the CRL stand at FIT Show 2022 will be our Glass Rooms, which enable homeowners to make the most of their outdoor space whatever the weather.
"CRL Glass Rooms are simple to construct, providing shelter from the elements and providing unobstructed views. With an intelligent modular design, the aluminium structure means very few supports are needed even over large areas.
"The innovative connectors give a high degree of flexibility with many variations possible, while optional extras including sliding doors, vertical blinds and roof blinds makes it simple to create a unique space that can be enjoyed throughout the seasons."
The brand has long supported FIT Show, having exhibited in 2016, 2017 and 2019. Speaking about the return of CR Laurence, FIT Show event director Nickie West said: "CR Laurence is a brilliant brand for our visitors, of which installers and fabricators make up the majority, to be able to see at FIT Show 22.
"Like many companies, CRL has experienced a surge in demand on the back of the pandemic and we are excited to see their fantastic products, including the amazing Glass Rooms, up close at FIT Show."
Simon concludes: "Visitors to FIT can visit CRL on Stand A51 to find out more about this innovative system, at a time when homeowners are investing in the creation of such indoor/outdoor spaces and installers need a solution that is simple to install and offers a great deal of flexibility."