17 May 2019
HOW CRAIG PHILLIPS CHOSE THE WINDOWS AND DOORS FOR HIS DREAM BUILD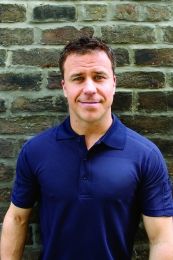 This year at the FIT Show, Eurocell plc, the UK's leading manufacturer, distributor and recycler of PVC-U window, door, conservatory and roofline systems, will have TV personality and Eurocell Champion, Craig Phillips on stand. We had a chat with Craig, before the show to find out why he uses Eurocell products.
So, Craig, why are you joining Eurocell on stand this year?
When constructing my Dream Build, I only wanted to use products and suppliers that I like and that I can trust to perform. When it came to the windows and bi-fold doors within the property, I knew I wanted to use Eurocell. I wanted to share my experience with installers and those attending the exhibition of installing these products.
What will you be doing on stand?
I'll be on stand for the Tuesday and Wednesday, talking about my experience installing Eurocell's window profiles and bi-fold doors into my Dream Build. I'm looking forward to talking with installers about the thermal efficiency of the products and how I made my property as passive as possible, whilst using the most sustainable products possible. As I installed the products myself, I'm also excited to talk about how easy Eurocell's products are to work with and hear about other people's positive experiences.
I'll also be there to help hand over some of the many prizes Eurocell is giving away at the show.
What was it about Eurocell's products that you liked most?
That's a tough one. Eurocell has over four decades of experience and its products have stood the test of time - something only the best have managed to do. By using a manufacturer with such longevity, I was also reassured that the windows and bi-fold doors installed were the product of years of development and enhancement and therefore the best on the market.
Eurocell's profile systems are also incredibly energy efficient and have been independently tested to achieve the highest possible A++ BFRC energy ratings so they will help with the long-term energy efficiency of the property.
What surprised you the most about the products?
I'd have to say Eurocell's sustainability credentials! PVC-U can be recycled up to 10 times and it actually gets stronger each time it is processed. Eurocell's capability to recycle end-of-life frames was a massive factor in my decision to have Eurocell installed throughout my property. Having recycled over 1.2 million frames in 2018, I can see they are making real steps to decrease the impact they have on the environment. I'm visiting the Eurocell recycling plant in the next few weeks and can't wait to see it in action!
What are you most looking forward to at FIT Show?
Eurocell is launching 10 new products at FIT Show and I'm very excited to see what they are and how I can incorporate them into any future builds I complete but that's all I can say for now as the launches are top secret!
To see Craig Phillips at FIT Show, visit Eurocell's stand, G40 on the Tuesday 21st and Wednesday 22nd May.