03 Jun 2019
CUSTOMADE GROUP PULLS OFF ITS BIGGEST FIT SHOW EVER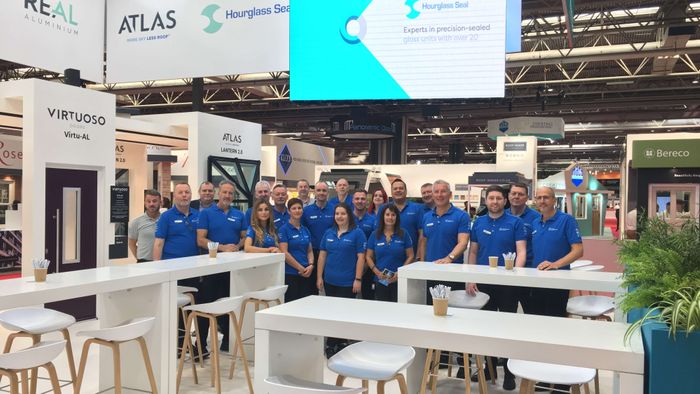 FIT Show 2019 was the biggest ever for Customade Group, with the team picking up a record number of enquiries for the group's extensive range of products and value-added services. The stand was packed throughout the three-day event with visitors making the most of the opportunity to see innovative products, seminars and new developments from some of the UK's best-known fenestration brands, including Atlas, Virtuoso Doors, REAL Aluminium and Polyframe.
Two brand new products – the super-slim Lantern 2.0 from Atlas and the Virtu-AL aluminium effect composite door in an aluminium frame from Virtuoso Doors – drew crowds to the stand. The group also officially launched a trio of industry breakthroughs – the unique aluminium online quoting and ordering system from REAL Aluminium, the new lead/quote management and conversion app from Customade Group and the Polyframe Protection Promise, which is the industry's best ever homeowner guarantee.

The group also hosted a series of informative seminars, with digital expert John Bonney sharing his wisdom on how installers can get themselves 'digitally fit' for the future and make the most from their leads and aluminium veteran John Adams talking all about the new aluminium quoting and ordering software from REAL.
Gareth Thomas, Customade Group's sales director, said: "It was an amazing three days and the stand was buzzing with people who came to see our spectacular collection of products and innovations, which we're really proud to call the best in the industry. The two leading products were the Lantern 2.0 and the Virtu-AL door and visitors got the chance to see and feel exactly what makes these products so different to everything else out there.
"The FIT Show was a brilliant launch pad for our value-added services too and every visitor was impressed with everything that we've created. Bringing best of breed products and solutions, quality leads, multi award-winning marketing support and industry-leading guarantees, Customade Group delivers an unbeatable customer-driven package for installers. 'Made to make you more' was our mantra for the FIT Show and, judging by the volume of enquiries we're now following up, we lived up to the expectation!"
The big reveal on the stand was Customade Group's groundbreaking new lead/quote management and conversion app, which drew hundreds of visitors to the stand throughout the show. Yet another industry first from Customade Group, the app has been developed by a team of software experts to help installers effortlessly manage their leads and quotes. Installers had the chance to try the app for themselves on the stand and to learn more about it in one of four dedicated seminars.
Seminar host John Bonney said: "We know from listening to customers that many of them are daunted by the thought of anything digital and they feel out of their depth because they think it's complicated. We quashed all those myths in these seminars and proved that it's very simple for installers to get digitally fit and convert those all-important sales leads into profitable business with the support of Customade Group and the new app to help them."
Bringing together the best choice of products, materials, price points and added-value services through one source, Customade Group is unmatched by any other fabricator in the industry. Customade Group operates nationwide and employs 1100 people in multiple manufacturing sites across the UK. The group includes REAL Aluminium (aluminium), Atlas Glazed Roof Solutions (glazed roofs), Virtuoso Doors (composite and PVCu door panels), Polyframe (PVC-u), (Hourglass Seal (sealed glass units), Stevenswood Trade Centre (trade counters) and Fineline Aluminium (specialist glazing).
To find out more about Customade Group and its range of products, call 01453 826884 or visit www.customade.co.uk.