21 Mar 2023
A decade of FIT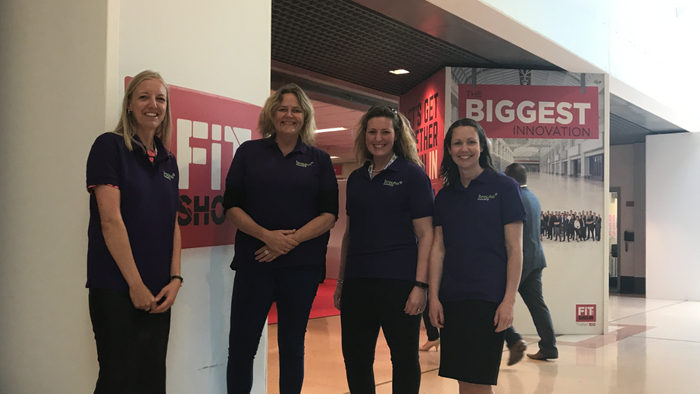 It's hard to believe that the FIT Show is already celebrating its tenth anniversary. It certainly doesn't feel that long ago that Paul Godwin and Matthew Glover first came to see us to share with us their big plans and they certainly delivered. Since the demise of Glassex nothing really hit the mark in terms of filling that void, until FIT was launched. The naysayers said Telford would never work, but how wrong they were. As the show approached, nobody really knew what to expect. A brand new exhibition at the relatively unknown venue of Telford. Were people really going to turn up?
The FIT team did an amazing job in marketing the show and true to their promises, visitors came. And it felt great to be part of something we really needed, a UK based exhibition for the window and door industry. A compact, vibrant FIT Show opened its doors to halls full of familiar faces along with lots of new ones too. What started out as a relatively small trade show at the Telford International Centre, has grown to become the industry's only dedicated exhibition and one of the stand out events in the industry calendar. Over the years the show has played host to some of the most pivotal product launches, live competitions and of course, after show parties and Gala Dinners.
Brouha and trade shows
We have always been an avid supporter of trade shows and see it as an integral part of the marketing mix. Over the years, we have been fortunate that supporting our window and door customers has taken us around the globe to Germany, America and Italy, to name just a few. We've also attended trade shows within other sectors such as housing, heating and plumbing, even Crufts to support a customer launching a pet product. But what all these other shows are missing is the atmosphere of FIT. The sense of community and fun mixed with serious business is tangible across FIT.
Brouha and FIT
Right from the start, we have positively supported FIT Show and some of our customers were amongst the first names to sign up for the first exhibition 10 years ago, eager to make the most of the unique opportunity the show was offering – a chance to get in front of the UK's fabricators and installers and show them what you can do. Every year since, our customers such as DoorCo, Smart Ready®, Inagas, Edgetech, RegaLead, Synseal have wowed visitors with impactful stands, innovative technology, products and standard launches as well as not to be missed after show parties. FIT Show has provided us with some really memorable times.
The pandemic may have paused proceedings, but the same atmosphere prevailed at last year's FIT; proof that people need people and that sense of community only a trade show provides, as well as the opportunity to get back out there and have some fun.
Now
Now at home at Birmingham's National Exhibition Centre (NEC), the FIT Show continues to provide a platform unlike any other in the UK. Talk face to face, see and feel the latest innovations, learn through the seminar programme, and ultimately sell products, is why FIT remains so popular.
Event Director Nickie West and her team have always included Brouha, ahead of the show as well as during it, Nickie comments: "Exhibitions are about so much more than just generating business. They are the primary platform to reunite with lapsed customers, agents, distributors, friends, and colleagues alike.
"Ten years really is a milestone for any exhibition, and I'm immensely proud that we'll be celebrating a decade since the launch of FIT Show this May. I'm often asked what the magic formula is when it comes to delivering a first-class exhibition and there isn't one single thing. It's a culmination of hard work, determination, solid financial foundations, collaboration with the right partners – from branding through to tactical execution – but, most importantly, it's about the support of the people within our community.
"From core trade bodies and media partners, through to PR agencies like Brouha and the people who exhibit and visit – FIT Show has become a key fixture in our industry's calendar because of this cumulative support."
Ultimately, it's people that make the FIT Show what it is. The people behind the scenes who work tirelessly year round to make sure it's everything it can be for exhibitors and visitors, the exhibitors who put endless amounts of work in to showcase the very best of their offering concentrated across a few days, and the visitors who come, eager to see what is on offer. We're excited to see what this year's show has in store…see you there.