26 Apr 2022
DOORCO IS BACK AT FIT WITH MUCH TO SHARE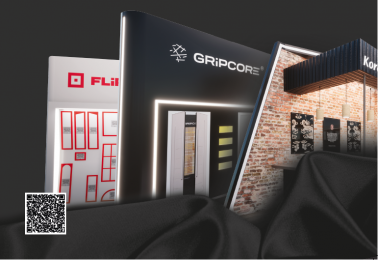 Leading composite door supplier, DoorCo, is returning to FIT Show for the first time since 2016, with the ultimate composite door industry offering showcased on stand Q11.
Dan Sullivan, MD comments: "It's been a while since DoorCo exhibited at the FIT Show and since 2016, DoorCo has certainly evolved. We still have our same core values of being a conscientious supplier, committed to constant innovation, never compromising, and always with our customers and their customers in mind. And this year, we are returning with an all-new brand supported by a comprehensive range of unrivalled composite door innovations. These include: GRiPCORE our solid timber-core door; ORiGINAL, our foam-core option and entry into the world of DoorCo; FLiP, our revolutionary glazing cassette option that is standard across the DoorCo range; FiRECORE, our FD30+ fire door that is a step above the rest; as well as our approved components including GLAZiNG and PAiNT.
"Our aim for the exhibition is to not only showcase our comprehensive product offering, but to connect with customers, prospects and the industry as a whole. It's a great chance to catch up with our team and meet some of the newer members too. There will be representatives from our overseas partner DoorCo KR, customer services, sales and marketing. Plus, the IT and manufacturing teams will be on hand to discuss the technology behind DoorCo – such as our unrivalled onboarding support and paperless manufacturing system which makes order information highly accessible for customers and offers the option for personalised barcoding and JIT delivery.
"FIT is the only dedicated exhibition for the industry, and with the delays thanks to all the trials of the last two years, visitors will be even more hungry to link up with the supply chain and see the latest innovations – something which DOORCO has in abundance. We're excited to be back from both a business perspective and socially, so come along to stand Q11, tuck into some Korean tapas, enjoy a drink on us and find out more about the ultimate industry composite door offering."
To register for your free ticket: https://fitshow-2022.reg.buzz/?exhibitor-inviter=a2d118bc-ff1b-11ea-8ba4-000000000000 or for more information call: 01625 428955 or visit: www.door-co.com.