03 Jun 2019
DOORS FIT FOR A BEAUTIFUL RESIDENCE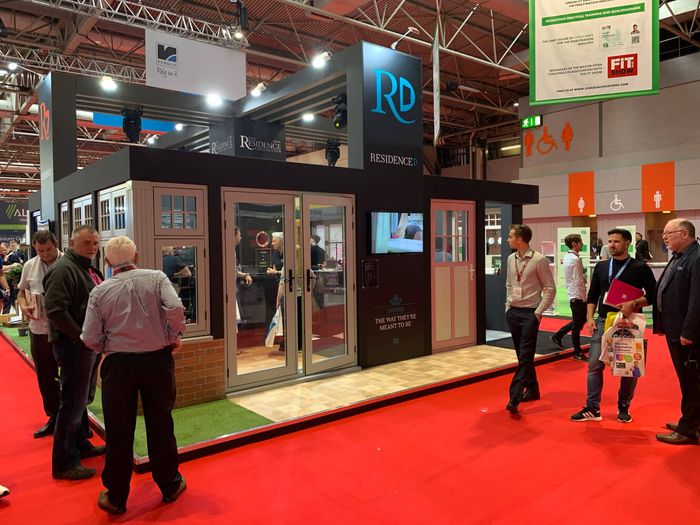 The Residence Collection presented a beautiful stand at this years' FIT Show with the usual panache from the brand with the launch of a number of engineered doors, the way they're meant to be. On Tuesday night the stand was also graced by Jamie B and a waitress service with canapes and drinks, as the show rocked on until 8pm.
There were both contemporary and traditional entrance doors on show, with the addition of a strawberries and cream inspired panel door. French doors were shown in the popular Painswick finish in R9, while R2 showcased a contemporary inward opening balcony door with side lights and with architectural inspired reinforcement mullions.
The stand represented the very best in terms of PVCu system design with R2, R7 and R9 all on full display and representing both mechanical jointing and Timberweld options. With a stand split into four living areas each product was perfectly presented in a different environment, with both heritage and contemporary influences.
The stand was busy throughout the show and with a central bar area, customers both new and existing were able to spend time with The Residence Collection team and to find out more about the total brand package for installers. Conservation areas were also a main topic of discussion as was the integration of shared profiles and beads throughout the systems.
Sarah Hitchings, sales and marketing director of The Residence Collection commented: 'Yet again we had a wonderful FIT Show in terms of stand visitors, innovative products and the way in which we engage with the industry as a whole. With the new range of engineered doors, we believe that the premium panel door market has the opportunity to take back share from composites through clever design, a wider range of sizes and long-term product performance.'
For further information please visit www.residencecollection.co.uk and www.residencecollectiontrade.co.uk. You can request a free brochure pack via e-mail at journey@residencecollection.co.uk or call 01452 348650. You can also add to their following on Twitter @residence9 and engage with them on other social media platforms including Facebook, LinkedIn, Instagram, Pinterest and Houzz.