07 Apr 2022
DOORS WITHOUT COMPROMISE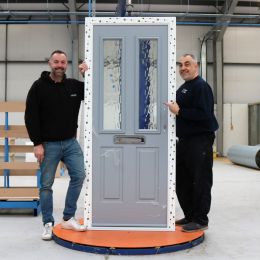 An exciting new business is set to take the composite door industry by storm and will be premiering their products at the FIT Show 2022 on stand F51. Comp Door in Staffordshire began manufacturing from its impressive 46,000 sqft factory in March. The company was formed by industry experts with the aim of engineering out the most common issues of composite doors from the outset. The result is a top-quality, high-performance product that has already gained the praise of installers.
The prerequisite for any new business is identifying a need that isn't being met and then delivering a product that fulfils that need. For the team at Comp Door, this meant creating a superior, durable yet stylish composite door that was both compliant to new regulations and affordable.
Pierre Mifsud, Technical Director at Comp Door has spent 30 years in the composite door industry and the last 12 years of that at one of the UK's leading composite door manufacturers. He explains, "We formed Comp Door so that we could apply our experience, know-how and understanding to bring a good product to market."
Using their combined skills, experience and expertise, the technical experts at Comp Door considered every detail of the manufacturing process and composition of the door, carefully selecting the best quality machinery and components available. Pierre continues, "Our premium cross-laminated Albasia Falcata timber core means every Comp Door meets the new regulations that are coming into force on the 15th June this year. It is then fitted with an auto-fire lock.
"This automatic multi-point locking system features four self-locking deadbolt latches to give maximum security and keeps the door latched at all times over the full height of the door. It requires no homeowner intervention as with a single latch and lift lever, thus eliminating the chance of the door not being secured properly."
For Comp Door's trade customers, this means they can have complete confidence that the door they're installing will guarantee happy customers. This in turn reflects positively on the reputation of their business and ultimately leads to more word-of-mouth referrals.
Discover the many other unique benefits of Comp Door on stand F51 at FIT Show or visit www.compdoor.co.uk