03 Jun 2019
ENTRANCE ENQUIRIES FUELLED BY FIT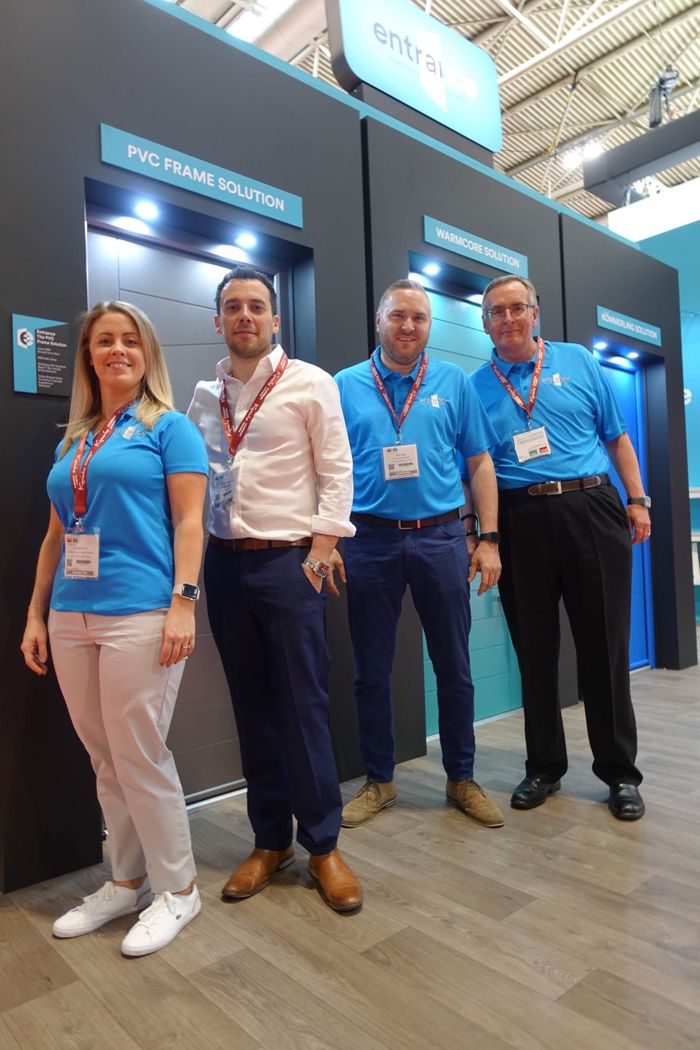 The FIT Show proved to be the perfect platform for the launch of the new Entrance Composite Door Solutions brand and their stand was busy throughout the show, with visitors eager to find out more about some of their latest product developments and unique support package for composite door manufacturing.
It was clear from day one of the show that companies are looking for alternative composite doors and that the bowing of doors has now become an industry issue. Their unique GRP composite door slab which includes a timber core and additional timber engineering, along with a 4mm skin, was very well received by companies who have had a number of remedial issues with other suppliers.
Some of the other exciting developments on show included the offer of fully mechanically jointed and colour matched KÖMMERLING PVCu frames, for all painted doors, which also includes a unique painted hinge edge. There was a striking smooth double door set on display which highlighted the incredible range of door options from Entrance, along with the launch of metallic finishes on their contemporary door range.
Glazing options were also on display with the option of flush Inox glazing from Regalead, with other doors showcasing aluminium inserts. Fabricator visitors to the stand were presented with a unique manufacturing package that includes a wide range of glazing options, cassettes and hardware. The new KÖMMERLING partnership programme was also launched with the offer of full doorsets including painted and mechanical jointed frame options, through the proDoor 44 brand.
Greg Kelly, managing director of Entrance Composite Door Solutions commented: 'We had an exceptional show with both fabricators and installers keen to look at our impressive product range, new marketing materials and also to discover that we're a customer focussed business. The new KÖMMERLING venture also shows that we're well placed and trusted by some of the industry's biggest brands, yet now the time is to follow up for what is an exceptional enquiry list.'
For further information please visit www.entranceway.co.uk, e-mail customerservice@entrancecds.com or call 0115 982 7744 and ask for your free brochure pack. You can also follow them on Twitter @EntranceCDS.