03 Jun 2019
FIT SHOW 2019 IS A RECORD-BREAKER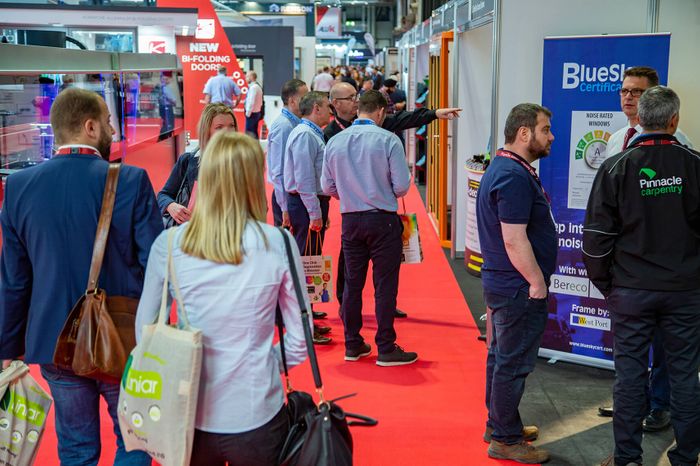 FIT Show organisers have reported a record breaking event for its 2019 outing. The Show's success follows the announcement that FIT Show will revert to an annual proposition, returning to the NEC in May 2020.
Early figures show a pre-registered visitor attendance of 62%, whilst overall visitor numbers saw a positive increase for both unique and repeat visits.
A number of new features were launched for FIT Show 2019, including its flat glass debut; Visit Glass, all new CPD approved learning programme, trails for installer, new products and timber as well as a reformatted Gala Dinner which focused on networking.
FIT Show recognised its exhibitors that drew the largest number of visitors registrations with presentations at the Gala Dinner. The evening saw Epwin, Bereco and Window Widgets take home discounts on their 2020 stand space.
Other winners at the show were VEKA, who scooped the 'best use of social media' award with judges praising the campaign for significantly adapting their marketing strategy across digital channels to reach new audiences. Kommerling took home the coveted 'best marketing campaign' gong with judges commenting that the campaign 'stood out a mile as being the most original, capturing the hearts and minds of their audience'.
Korniche, who developed a lantern roof installation challenge specifically for FIT Show visitors, were also highly commended by the judges for a marketing campaign that reached across a plethora of trade media.
Initial feedback from both exhibitors and visitors alike is that FIT Show 2019 was not only busier than previous shows, but that the quantity and quality of leads generated across the three days were higher. Organisers are in the process of conducting a deep-dive analysis of FIT Show 2019, which will include a survey to its exhibitors and visitors.
FIT Show Event Director, Nickie West said: "We have been overwhelmed by the success of FIT Show 2019. We had more exhibitors, displaying more new products than ever before, and we drew our largest audience to-date. The feedback has been fantastic.
"We're extremely grateful for the support that FIT Show has received throughout the industry. Our exhibitors play a very big role in helping to drive our audience - they are exhibition savvy in their marketing and this can be seen in the results of our exhibitor awards - well done to everyone involved."
Gareth Jones, managing director of profine UK and the KÖMMERLING brand commented: "Our presence at FIT Show was the culmination of the campaign that reflects a new beginning for KÖMMERLING in the UK with a new team at the helm. We've started the process to elevate the brand and its values, but now with a considerable number of enquiries, we will look to capitalise on these opportunities in the coming weeks and months after what was nothing short of an exceptional show for us."
Charles Hodgson, managing director Hodgson Sealants commented: "We had a wonderful show and the interest in HY-SPEC 25 was particularly strong with installers eager to upgrade their existing silicones to a better next generation product. As a UK manufacturer, it was also important for us to present the business in front of a large target audience and show them the depth of our product range and capabilities for innovation."
Sarah Hitchings, sales and marketing director of The Residence Collection commented: "Yet again we had a wonderful FIT Show in terms of stand visitors, innovative products and the way in which we engaged with the industry."
Discussing the response to the decision to revert FIT Show to an annual proposition, FIT Show Event Director Nickie West concluded: "We are extremely happy with the feedback we have received. We have already secured support from some key brands that were with us this year along with some very positive indications from companies who did not exhibit.
"It's incredibly important that we protect the long-term success of FIT Show. Our expertise in the field of live events, coupled with research across our audience base, points us towards the belief that our community will be best served by an annual platform."