28 Jul 2022
FIT SHOW ANNOUNCES 2022 MARKETING AWARD WINNERS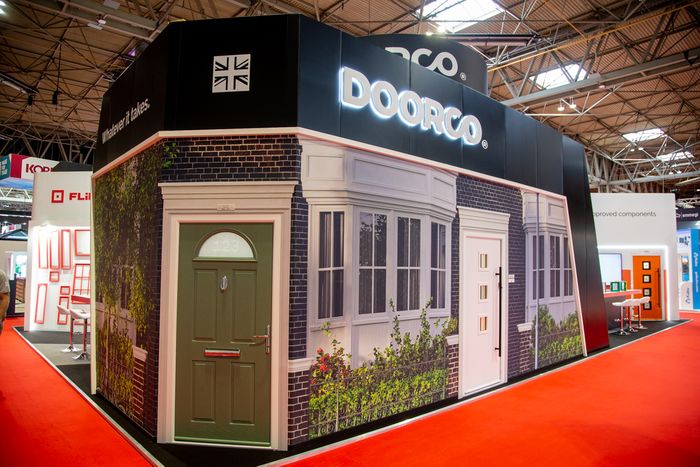 FIT Show organisers have announced the winners of its 'Best FIT Show Marketing Campaign' following its hugely successful 2022 event, which took place at Birmingham NEC from 10 - 12 May.
Organisers split the award across two categories, above 70m2 and below 70m2 and awarded one overall winner in each category, as well as a 'highly commended' winner for both.
Solar Calibre, who made their FIT Show debut in May, took the top spot in the 'Best FIT Show Marketing Campaign 2022' over 70m2. They were closely followed by Doorco who scooped the 'highly commended' gong.
Gareth Jones, managing director of Solar Calibre Doors, said: "We are absolutely delighted to win this award, which reflects the company values of great customer service, top quality products and getting the job done. Personally, I have always been a great supporter of FIT, in my time at both REHAU and Profine, so I was pleased to bring Solar Calibre to the show and particularly delighted to have won this award, in our debut year. However, most important of all is the success we have achieved in sales growth as a direct result of attending the show, where we were able to come together with numerous customers looking for an alternative supplier of composite door solutions."
Ben Aspinall, Head of Technology & Marketing comments: "For DoorCo, FIT Show 2022 was a resounding success where we met our objectives of connecting with the market and cementing our position as the UK's leading composite door manufacturer. Since the last time we exhibited at FIT Show, there have been quite a few changes at DoorCo. Our campaign, 'DoorCo is back with much to say' was complex, and therefore it was vital that our messaging didn't get confused or diluted. Through working with strategic PR and marketing partners, we delivered a campaign that was strategic and coherent and we are incredibly proud that our efforts have been recognised with a Highly Commended in the 'best FIT Show marketing campaign' for 2022 (above 70m2).
"Delivering FIT Show really was a team effort, from the designers to the supply chain partners that helped us with product, to the team that worked on the stand throughout the show and we would like to say thank you to all those involved, as well as a thank you to everyone that engaged with us at the show."
Strongdor, another brand to make its debut at FIT Show, received the overall winner's award in the below 70m2 category. VEKA were also honoured in this category, taking home the 'highly commended' award for their 'FIT to Fly' marketing campaign.
Sarah Cooper, head of marketing and Strongdor commended: "We are delighted to have won the 'Best FIT Show marketing Campaign 2022'. As the newbies at the show, I wanted to create a campaign that reflected both the strength and fun character of our brand with the reveal of our steel door mascot Theodor.
"FIT Show 22 was a huge success for Strongdor, creating lots of new connections and business opportunities and has most certainly been a worthwhile marketing investment."
Gemma Swift, PR and events manager for VEKA plc said: "We are honoured that our FIT2Fly campaign received the highly commended award at this year's FIT Show. It was great to be a part of what was a momentous return, after a turbulent time for all. It was an honour to be involved in such a vibrant and dynamic industry event and we are humbled that our efforts were recognised and rewarded."
FIT Show event director, Nickie West commented: "The standard of entries, as always, was extremely high for our 'Best FIT Show Marketing Campaign' awards. We were inundated with entries and, after an extended period of waiting to run the show, it seemed only fitting that we should recognise more than one winner by creating two categories and adding the extra 'highly commended' positions.
"I'd like to take this opportunity to thank everyone who took the time to enter, and to say a huge congratulations to all of our winners. The campaigns that were delivered really were fantastic, with a huge amount of effort going into making creatively and highly engaging marketing campaigns that drove visitors to the show in their droves."
Alongside its marketing award winners, FIT Show also recognised and rewarded its exhibitors who drove and converted the most visitors to the show. This included categories above and 'below 60m2' with Morley Glass and Strongdor winning respectively. Britmet Lightweight Roofing picked up the gong for most converted visitors 'up to 29m2'. All three brands have won a monetary discount on their stand space for FIT Show 2023 which returns to the NEC from 23-25 May for its ten year anniversary event.