04 Apr 2019
FIT SHOW TV OPEN FOR SUBMISSIONS, SAYS MAIN SPONSOR TIMBERWELD®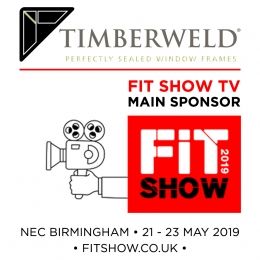 It's widely expected that 2019 will be the year of the flush sash, so it's appropriate that Timberweld® is the main sponsor of FIT Show TV. Timberweld® is the patented method of jointing that makes perfect corners, and creates a butt-joint effect outside and inside a window for an authentic timber look perfect for flush sashes. "If fabricators and installers love flush windows and want a timber-look inside and outside, Timberweld is the only way to make them cost effectively," explains Alan Burgess, the man behind the Timberweld innovation.
Taking place on 21-23 May at the NEC, the FIT Show is a world- class exhibition of hundreds of new products and services, many on show for the first time. FIT Show TV will provide a dedicated news channel in the months running up to the show to connect to a wider online audience, with video submissions by exhibitors shown at www.fitshow.co.uk/fit-show-tv.
Alan adds: "We're thrilled to be the main sponsor of FIT Show TV. Exhibitor videos will also be shown on screens around the show and the venue, in addition to a feed from a live TV crew, so visitors can't miss it - or the Timberweld message.
"We've exhibited at the FIT Show many times so really appreciate the fantastic audience it brings. It's expected to be 25% bigger this year with a new dedicated 'Visit Glass Show', so we're expecting even more energy and excitement this time – after all, #everyonesgoing! We'll also be interviewing Timberweld licence holders to get their comments on how it's helped their fabrication, so we can spread the word!"
To submit a video for FIT Show TV, contact Sara Mikunda, Marketing Manager on 07721 844561. To find out how you can start using Timberweld call 01376 510 410 or email perfectcorners@timberweld.co.uk.