14 Jul 2023
A FIT-ting Result for Selecta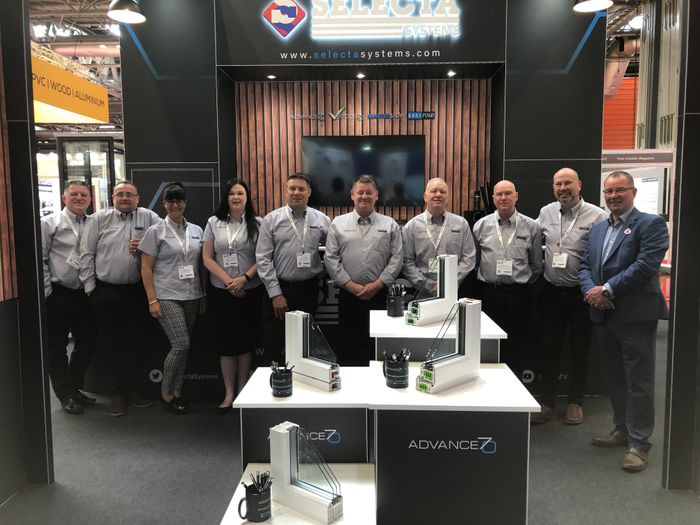 Birmingham based PVCu window and door systems company, Selecta Systems, headed to FIT Show 2023 equipped with an armoury of sales and marketing support tools and a range of innovative products and new concepts. Sales Director, Andy Green and Marketing Manager, Mark Walker, talk about Selecta's presence and huge impact at the show.
Andy explains, "Selecta were the only PVCu window and door systems company to exhibit at FIT Show 2023 and the only PVCu window and door systems company to exhibit at every FIT Show since it began 10 years ago! What this meant for fabricators visiting this year's show, those who may have been looking to change profile systems or just merely window shopping, pardon the pun, was that Selecta were the only go to. So, by simply being at the show and having that presence presented huge benefits to ourselves. It fact, it provided the perfect platform to enable us to talk directly to prospective customers, whilst presenting ourselves with an excellent level of exposure and further marketing opportunities."
"Over the course of the three days we had a number of frustrated fabricators who came to our stand to specifically look at changing from their existing systems company. The numbers and quality of these potential customers were extremely good and certainly justified our presence. The launch of our modernised MASTERslide patio door was fondly received and generated a good volume of interest from both existing and potential fabricators and installers."
"Interest in our newly upgraded Connect customer portal and supporting sales and marketing tools was exceptional. Both existing and potential customers were excited by our sales and marketing support package offerings, appreciating its vast capabilities and ability in helping them win new business", Andy emphasises.
Selecta saw the FIT Show as the perfect platform to launch the recently updated Connect customer portal and new sales and marketing support tools, as Mark explains.
"The Connect customer portal was originally launched in May 2018, where it focused around a resource centre of marketing and technical downloads, information and guides to help fabricators and installers 24/7, 365 days a year. The updated Connect project has been in progress for almost two years with the portal now boasting a host of new marketing, sales and technical support features. Our intentions were to always grow the platform in to the 'go to hub' for all areas of technical, marketing and sales support, and we saw the FIT Show as the ideal stage for us to launch and fully demonstrate its excellent new capabilities and features."
"I must say, feedback and interest during the show was amazing! On the stand we were demoing our all new and refreshed trade website alongside our brand-new homeowner website, which intrinsically links all enquiries and sales leads between Connect and our customers. The window and door designer / visualiser, fully loaded with our range of window and door solutions, was a sure-fire hit amongst visitors to the stand", says Mark.
"The real winner for fabricators and installers was that we are able to offer a branded version of the window and door designer / visualiser, which in-turn can be embedded upon their own website! This then enables them to generate their own sales leads, have them land within their own admin area of their own version of Connect and create professional quotes. Not only does this provide them with a professional looking sales tool and an opportunity to win new business, but it also provides them with a brilliant sales management tool in the background."
Mark continues, "We came away from the show with a long list of customers, ready and waiting to sign-up and have their own version of the designer. The response was excellent and exactly what we had wished for and more."
Selecta were so impressed with the feedback and response at the show, that they signed up to FIT Show 2025 before the 2023 event had even finished! Andy explains the reason behind this decision.
"What was really nice was that we had so many compliments about our stand at the show. We were so pleased with the stand and the general response to Selecta. our product range and the Connect portal. The quantity and quality of the leads definitely exceeded our expectations. So, we would like to thank the FIT Show team for such a fantastic and well organised event. For us, it really was a no brainer to sign up there and then to 2025 and secure a prime spot on the floor plan, on the back of what was an excellent show and a really fitting result for Selecta."