06 Sep 2019
FLURRY OF EXHIBITORS SIGN UP FOR FIT SHOW & VISIT GLASS 2020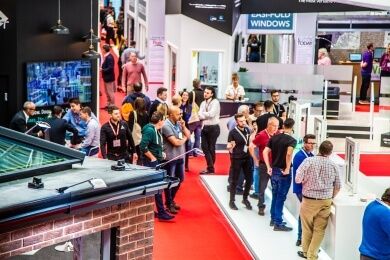 FIT Show & Visit Glass organisers have announced that a flurry of exhibitors have thrown their weight behind its 2020 showcase, hot on the heels of its decision to revert to annual proposition, and following its most successful event to date in May this year.
Occupying halls 2 & 3 at the NEC next May (12 - 14, 2020), FIT Show and Visit Glass are set to return with the same award-winning formula that has helped to establish it as the UK's number one, award-winning showcase for the glass, glazing, windows, doors and conservatories sectors.
Alongside returning exhibitors, including the likes of Architectural Vision Systems, Victorian Sliders, IKON Aluminium Systems, Cortizo, Made for Trade and ODL Europe. Brands who didn't form part of the 2019 lineup but who are set to exhibit at FIT Show 2020 include Inotherm, APECS and Rebar Group.
Skills Thursday will return for 2020, with work already underway to develop the grassroots, training, development and upskilling content beyond the show and throughout the industry. FIT Show is working with Building Our Skills to deliver a 'Challenging Workplace Stereotypes' campaign which will be threaded throughout the campaign, in the run up to, during and post FIT Show 2020.
Also set to return for FIT Show and Visit Glass 2020 is its CPD approved learning programme, which will once again tackle a range of important themes as topics, from mental health awareness through to smart home technology, sustainability and equality in the workplace.
Speaking about the influx of FIT Show 2020 brands, FIT Show event director Nickie West commented: "We always knew that our decision to revert to an annual proposition would receive mixed reviews from some corners, but the fact that we are already seeing a good number of repeat and new exhibitors showing their support for FIT Show and Visit Glass 2020 is fantastic. To achieve this during all the chaos and uncertainty that continues to surround UK businesses is no mean feat."
Speaking about their decision to exhibit again at FIT Show 2020, Rhys David, Director at From The Anvil said: "FIT Show 2019 was the first year for us as exhibitors and we had a really successful show. We gained a lot of valuable leads which translated into new business, so we're hoping for more of the same next year. FIT Show allows us to promote our brand to people who may not otherwise be aware of us."
Rachel Dixon, marketing manager for Hodgson Sealants said: "Hodgson Sealants are happy to say that we will be exhibiting at FIT Show 2020. We exhibited for the first time at the 2019 show and it was a huge success for us with many leads generated. FIT Show is a great platform for those who want to showcase the latest product innovations in to the fenestration industry."
David Janez, Sales Manager for Inotherm said: "We're exhibiting at FIT Show 2020 to find additional sales partners and expand our sales network for our products, as well as promote our brand and aluminium doors in the UK."
David Gouldbourn, Marketing Manager at APECS, said: "We are exhibiting at FIT Show 2020 to showcase our new sustainability initiative, our new 3* cylinder, as well as to increase awareness within the industry about the full APECS product range. FIT Show covers all of the industry, from manufacturers to installers and everything in between. It gives us a great opportunity to not only showcase our products and increase brand awareness, but also to network and keep on top of the latest industry trends and innovations."
John Park-Davies, MD for IKON Aluminium Systems, commented: "IKON have exhibited at FIT Show four times now and each event has been a more positive experience than the last. At the 2019 show we had tremendous interest in both our existing products and some new additions to our offering, including colours, textures and special finishes. We are a supplier of materials and FIT Show enables us to meet and connect with many like-minded individuals who specify, install and use our products all with one common interest."
Kevin Foster, Sales Director for PAL said: "The 2019 show was our first show, a taster to see if it suited us. The quality of visitors impressed us, we networked with the trade, we networked with existing customers and met new potential customers. That's why we booked for 2020."
John Burton, Director for CPS Lift said: "As the FIT Show attracts glass and glazing experts internationally, we have the perfect audience in one place to display our equipment. Because most of the visitors are already in the business we find that many come to the show looking for specific products. Where else in the UK do so many like minded people focused on one profession accumulate as one audience? We have attended many other shows over the past year but none so focused on what we are about, which is GLASS. At other show you may talk to a similar number of interested parties but the FIT show is the only one with such focus."
Nickie West concluded: "When the doors open at FIT Show and Visit Glass 2020, our visitors can expect the same quality and diverse mix of brands, products and materials, combined with new show features and content designed to meet their needs in an ever changing marketplace.
"There will be a bigger focus on materials such as flat glass and timber. Sustainability is also set to feature more prominently throughout the Show, as is smart home technology which proved popular at FIT Show 2019. We're excited to announce the next raft of brands set to join our showcase in 2020."