24 Jun 2019
GOING THE EXTRA MILE… AT THE FIT SHOW 2019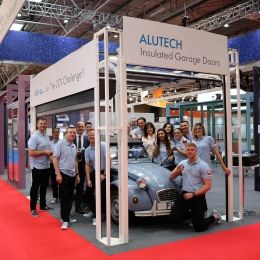 Following its launch at FIT Show 2019 on 21st May, 'The 2CV Challenge' has already gained international interest and celebrity support. The charity road trip for dementia charities is being attempted by Alutech Systems MD, Steve Hudson, and the classic Citroen 2CV car on the Alutech Systems stand F25 caught the attention of most visitors passing by. Since then, companies from around the industry and globe have been pledging their support. The 2CV 'stress car' also appeared in several celebrity selfies and became a popular giveaway at the show, with many visitors making a special trip to the stand to grab one.
Kicking off day one of the 3-day event dedicated event for the window, door, flat glass, and components market, Steve opened the seminar programme in the Discovery Theatre with colleague Dan Holt, MD of Boss Digital. Their Sales & Marketing Masterclass for Fabricators was well attended. The audience grew as visitors filtered into the NEC on the first day, with passers by stopping to listen soon taking a seat as Steve and Dan gave practical advice to fabricators on effective marketing strategy.
Steve said, "In every business, we will do pretty much anything to make sure the client gets what it is that they need and that's my underlining principle of anything in life. If you're going to do it, go and do it really, really well… 'The 2CV Challenge' is me personally going that extra mile to raise a lot of money for charity. The goal is to raise over £100,000 for dementia charities."
The Alutech Systems stand was bouncing with visitors, manned by representatives from the UK systems and garage door business, with additional support from the group company in Belarus and Alutech Systems' trusted suppliers and fabricators. Steve said, "Our stand at FIT Show was a celebration of the partnerships and combined efforts of the individuals that have helped our business grow over the past 2 years. We wanted the stand to demonstrate the strength and breadth of our product offer but also to communicate the culture and values of the company and the personalities of the people in it, because this is what ultimately differentiates our business."
The FIT Show also provided a perfect platform to launch Alutech Systems' new aluminium residential entrance door, which proved popular across the company's broad customer base of fabricators and installers. Designed to complement the Alutech range of residential bi-folding doors, lift and slide doors, windows, and garage doors, the new aluminium entrance door is aimed at the premium end of the market offering, outstanding designs and market beating product quality, with a U-value of 1.2 and a wide choice of design options, accessories and finishes.
Alutech Systems' residential door expert, Reggie Zejnic, was on hand to demonstrate the product. He commented, "Our aluminium doors are handmade with precision and experience. Our high-performance materials not only provide a solid, highly-insulated and secure entrance door, but also a great aesthetic asset to the home. Versatile and competitive, our biggest advantage is that all elements of the doors are made and assembled at the same premises. Our glass artisan will design almost any motif on the glass, either on the panel or sidelights. You can choose any dimension, colour and style, or even add LED lights. Our finger scan is available on the pull bar or on the panel for a highly functional and modern look. Tell us your requirements and we'll take care of it."
One company visiting the stand commented, "'It's a fantastic door and it is going to do really well. I already have a few people lined up wanting quotes for these and I'm pretty sure more will be on their way."
Alutech Systems' MD, Steve Hudson, added, "Last year, Alutech Systems' UK sales grew in excess of 25% on average month-on-month, with a combined range of aluminium systems for windows, doors, façades, louvre & brise soleil and internal partitioning, sectional and roller garage doors and garage door automation. Adding an entrance door to our offer was the natural next step towards becoming a one-stop shop for aluminium home improvement products."
Another visitor to the Alutech Systems' stand said, "We loved the 'stress car' giveaway and the different, funky colours of the systems on the stand showed what's possible the Alutech range. It was a great opportunity to put names to faces and we thought the seminar was very good."
Steve concluded, "FIT Show, for us, was a real success. We had great feedback to the products and gained lots of support for 'The 2CV Challenge'. But ultimately, we got to catch up with friends and colleagues and start new relationships with people we'd not met before. There was a real energy on our stand and enthusiastic conversations that look set to lead to strong, productive relationships in the near future."
For more information, call: 01924 350 110, email: info@alutechsystems.co.uk or visit Systems at: alutechsystems.co.uk Garage Doors at: jdukltd.co.uk Group at: alutech-group.com/en
Follow us on social media: image011.png@01D46081.17F1FE90" /> @AlutechL image004.jpg@01D362DB.43C06B00" /> Alutech Systems/Alutech Garage Doors image012.jpg@01D46081.17F1FE90" /> Alutech Systems Ltd