10 Mar 2023
Haffner gears up for FIT Show 2023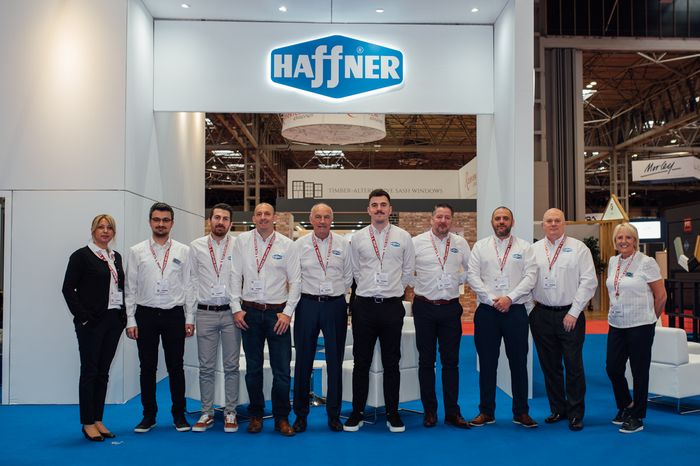 Machinery specialists Haffner are gearing up for a successful FIT Show by showcasing the largest and most comprehensive machine portfolio in the industry that makes it a go-to supplier for fabricators of all sizes.
At 586.5sqm, the stand is by far the largest at the show and will be home to the latest cutting-edge fabrication machinery for aluminium and PVC-U profiles. Matt Thomas, Managing Director at Haffner, said: "The Haffner stand is a must-visit for any fabricator looking to invest in machine automation. Our range is far-reaching and is suitable for all fabricators regardless of size or production output."
Visitors to Stand K51 will be able to view a complete factory set up featuring state-of-the-art aluminium machinery from FOM Industrie. This includes the FMC230 CNC Machining Centre with its four controlled axes, the heavy-duty FMC340 CNC Machining Centre and the Blitz Alva double head saw. Matt said: "The live factory set-up will demonstrate the innovative credentials of the FOM aluminium machines and how they take fabrication to the next level by delivering superior manufacturing quality and best-in-class performance. We will also showcase a range of FOM machines to support smaller fabricators who are equally looking to add automation into their business to allow them to scale up as demand dictates."
For PVC-U fabrication, Haffner will be demonstrating their market-leading SBA-4 Machining Centre alongside the impressive SMR-5 Welder, the fastest and most accurate welder on the market today. Also on show is the popular TT 405 Haffner Double Mitre Saw.
Taking centre stage for a second year is the exclusive Graf Synery range from Haffner which includes the SL4-FF RS 4 Head Welding Machine and the revolutionary Reverse Butt Welder. Matt commented: "Fabricators are increasingly looking to use the latest technologies to deliver outstanding quality that today's popular feature-rich products demand. The Graf Synergy range delivers world class seamless welding technology and patented welding techniques, increasing fabrication efficiencies and delivering superior product quality."
The FIT Show, which runs from the 23rd – 25th May, is the UK's only dedicated event for the fenestration industry. The 2023 exhibition will celebrate ten years of innovation, and a decade of being the UK's number one trade show for the industry.
Matt concludes: "We have exhibited at every FIT Show and we have no doubt that the 2023 exhibition will be something special. We look forward to welcoming customers old and new to our stand and showing them exactly how Haffner can help them take their manufacturing to the next level."