16 Aug 2018
HODGSON TO SEAL A FIT SHOW LAUNCH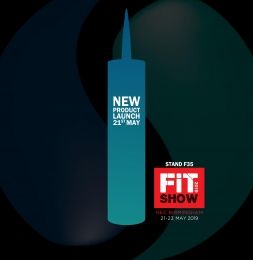 Hodgson Sealants will be launching their next generation HY-SPEC hybrid sealant on stand F35 at the FIT Show and this exciting development will provide fitters and installers with a better performing product in many ways, the company says.
As a company now in its 51st year, the business of Hodgson Sealants still remains part of the founding family and is looking to continue to promote British manufacturing, research and development as the UK's largest independent sealant manufacturer. HY-SPEC will feature heavily on the stand and is a new generation range of sealants that are stronger and more flexible than typical silicone sealants, solvent free, UV resistant and paintable among other features.
The company is also a founding member of the GGF and members of the British Woodworking Association and the Wooden Window Alliance, they are also an active part of these important industry bodies. As a UK sealant manufacturer, Hodgson Sealants are part of the Made in Britain initiative and this debut at the FIT Show also clearly demonstrates the importance of these industry bodies and the glazing sector as a whole to Hodgson Sealants.
Charles Hodgson, managing director of Hodgson Sealants commented: 'We're genuinely thrilled to be part of this years' FIT Show and are looking forward to meeting customers and to interact with the industry as a whole. It's the perfect platform for us to showcase some of our solutions that have been specifically developed for the requirements of the UK market and non more so than the exciting HY-SPEC hybrid sealant range.
He continued: 'We also hope the FIT Show allows us to open up sales opportunities with companies eager to join our network of loyal partners across the UK.'
For further information please visit stand F35 at the FIT Show, NEC Birmingham 21-23rd May, 2019. You can also find out more about their product range at www.hodgsonsealants.com and can follow them on Twitter @HodgsonSealants.