29 Mar 2023
Hörmann UK launch new products and loyalty promotion at FIT 2023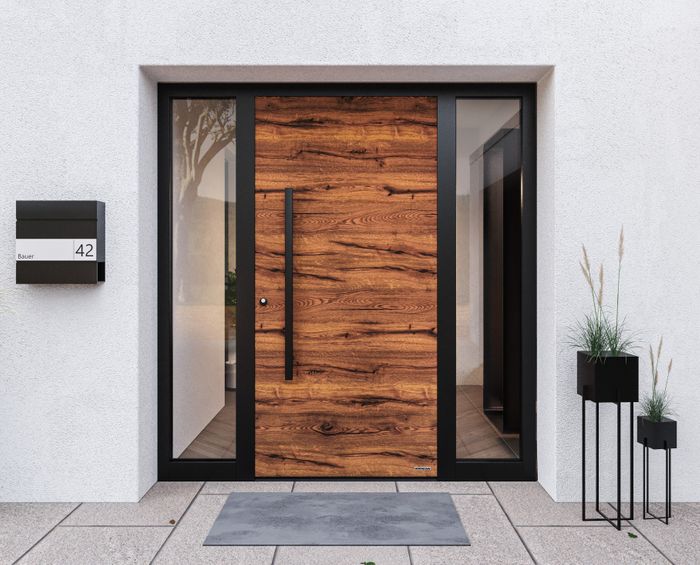 Hörmann UK will be exhibiting their full range of entrance doors at the FIT Show in May and will for the first-time feature composite doors, manufactured by its sister company IG Doors, alongside their established steel and aluminium product range. An exciting 'Hörmann Rewards Fitters' loyalty programme will also be showcased, with the show offering fitters the exclusive opportunity to be the first to sign up to the scheme.
In an important move designed to develop a 'one stop shop', Hörmann UK will now supply the Truedor range through its own sales organisation, enabling the company to offer a solution for each sector of the market; Hörmann Truedor a competitive composite door, Thermo 45/65 a mid-range series of steel doors and a premium positioned aluminium option.
The recognised Truedor range offers installers a comprehensive selection of composite doors now backed by the Hörmann brand and support. With over 30 years of experience in the manufacture of composite doors, IG Doors produce the Truedor range from a high-tech facility in Blackwood, South Wales and are the only supplier of GRP composite doors in the UK to manufacture their own door slab. Selling under the Hörmann Truedor brand installers will have access to a range of high-quality entrance doors, available in an extensive choice of designs, styles, colours, glazing options and accessories. Featured on the stand will be a selection of doors representing some of the most popular styles and colours in the market.
Hörmann's high performance range of Thermo45/65 steel and aluminium entrance doors offer good looks and exceptional security, alongside impressive U-values as low as 0.87 W/m2k. Manufactured from high grade components and featuring high security locking systems, the range features an extensive choice of styles, accessories, and finishes for the discerning end consumer.
New on the stand will be the ThermoSafe Decoral door a new addition to their range of aluminium doors. Thermosafe Decoral offers the combination of a high quality, secure aluminium door together with a selection of new modern décor finishes and door styles.
The Decoral finish is applied to the powder coated surfaces of the ThermoSafe door using a patented coating method which results in a beautiful, colour fast and detailed appearance. The range offers five new innovative finishes – Cement, Rusty Pantina, Wild Oak, Barnwood and Barnwood Grey, together with eighteen exclusive door styles. Supplied with a standard frame in Jet black the ThermoSafe Decoral door is also available with the exterior handles and embellishments in Jet black or in one of the Decoral colour options to match or contrast.
Automated garage doors will also be on show featuring RenoMatic sectional doors and the RollMatic 2 roller door. Designed to incorporate innovative anti-scratch technology, the RollMatic 2 will be displayed in Chartwell green. The RenoMatic sectional doors will be, for the first time, displayed in a Planar Jet black finish alongside a Turquoise blue Slategrain door panel. Hörmann automated sectional garage doors are supplied with Secured by Design as standard, with the doors obtaining the accreditation with no modifications or additions required across the full range of sizes available. For the accreditation to be valid the doors should be installed behind the brickwork and not include any glazing options or external handles. Once fitted the installation will need to be registered with Hörmann to obtain the SBD certification.
Operation of all of the doors on the stand will be via remote control hand transmitters and Bluetooth technology using a mobile phone or tablet.
David O'Mara, Marketing Manager of Hörmann UK comments, "The FIT show is a really exciting time for Hörmann as it provides us with the ideal opportunity to announce our entry into the composite door market. The Hörmann Truedor range complements our existing range of products, meaning that we can now offer a door for each price point in the market, all backed by the Hörmann guarantee of choice, quality and service. It also gives us the opportunity to talk garage doors, show our range of the most 'fitter friendly' entrance and garage door products available on the market and encourage more installers to expand their product portfolios.
Our new loyalty scheme 'Hörmann Rewards Fitters' is a fantastic promotion to reward fitters for installing both garage doors and entrance doors. It's basically 'points make prizes' with the more installations carried out, the more points collected. These can then be redeemed against a selection of tools and accessories – power tools, Makita radios and much more. I would encourage fitters to visit the Hörmann stand to find out more about our fantastic product range and be amongst the first to sign onto our Rewards programme, you'll also have the opportunity to have some fun and see if you are the 'Fastest Fitter' at the show!"
To find out more about Hörmann visit https://www.hormann.co.uk/ or call 01530 516868.