16 Mar 2022
HÖRMANN UK TO SHOWCASE GARAGE DOORS AT FIT SHOW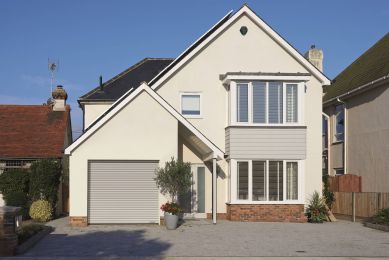 For the first time, Hörmann UK will be displaying its market leading range of garage doors at the FIT show, together with their premium entrance doors and Smart technology - an impressive portfolio of products which provide exciting opportunities for both fabricators and installers.
Taking centre stage will be the new RollMatic T which has been specifically designed to be fitter friendly and address the requirements of an increasingly competitive UK roller door market, whilst maintaining the high standards expected from Europe's leading garage door manufacturer. Designed to be quick and easy to fit, the door is supplied in two sturdy and easily transportable boxes containing all the components needed to install and operate the door, with pre-assembled and pre-drilled components reducing preparation time on site.
To illustrate just how quick and easy the RollMatic T door is to install, demonstrations will take place on the Hörmann stand throughout the show, with a daily competition being held for visitors to guess the actual time taken to install the door.
On show for the first time will be the new RollMatic 2. Introduced as a new and improved version of their well-established RollMatic roller door, RollMatic 2 has been developed by Hörmann to address the industry wide problem of scratching associated with roller doors. Utilising innovative technology, RollMatic 2 incorporates the inherent technological benefits of the original door whilst reducing the risk of marking and scratching caused by grit or other foreign objects.
Two Hörmann automated sectional garage doors will on display, one featuring the new Slategrain finish, which replicates the natural finish and structures of slate, alongside a door illustrating the innovative and creative 'Duragrain Individual Print' which offers the ability to print individual images onto the surface of the garage door. Hörmann automated sectional doors are supplied with Secured by Design as standard.
Hörmann's premium range of Thermo45/65 steel and aluminium entrance doors offering good looks and exceptional security, alongside impressive U-values as low as 0.47 W/m2k will be displayed. Manufactured from high grade components and featuring high security locking systems, the range features an extensive choice of styles, accessories, and finishes. Featured for the first time will be the Thermo 65 black.edition, a range of accessories in elegant Jet black, mirroring the latest trend for black interior fittings popular in both kitchens and bathrooms.
Visitors to the stand will also be able to see the most advanced automation systems which feature Bluetooth technology enabling opening and closing of both garage and entrance doors using a mobile phone or tablet. This is in addition to the conventional operation by way of remote control using handheld transmitters.
In response to the increasing popularity of Smart home devices, covering everything from heating, security, and home comfort, Hörmann will be featuring their Homee which brings the garage and home closer. The Homee provides full home automation by connecting to other smart home systems via an app so that they can all work from one central platform.
Wolfgang Gorner, MD of Hörmann UK comments, "The FIT show provides Hörmann with the ideal opportunity to showcase our garage doors to a new market sector. We know that more fabricators and installers are looking to expand into the 'home improvements' market and Hörmann garage doors are the ideal fit. Not only do we offer an extensive and high-quality range of garage doors, but the introduction of our RollMatic T also offers the quickest and easiest door to fit on the market – truly fitter friendly.
Steel entrance doors and our Smart technology complete what is an exciting and innovative range of products - the team and I are looking forward to welcoming existing and prospective customers onto the stand."
To find out more about Hörmann visit https://www.hormann.co.uk/ or call 01530 516868.