13 May 2019
INDUSTRY-FIRST COLLABORATION RESULTS IN PERFECTION AT EVERY LEVEL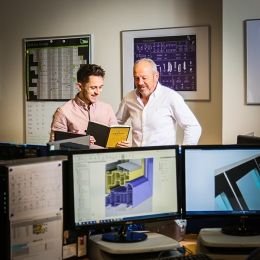 Known for its innovation, close-knit culture and commitment to excellent quality, support and customer service, industry-leading systems company Liniar has taken innovation and product design to the next level with its latest launch. The brainchild of the company's Design and Development team, the double-rebated Resurgence flush sash window is more than just another window.
What began as an idea has culminated in a cutting-edge product, having gone through a comprehensive development process which would bring together four companies in an industry first.
Unique collaboration at the design stage
In 2017, the concept of a new style PVCu flush sash casement window with a double rebate and traditional timber joint appearance began with a meeting between Liniar, its sister company Avantek Machinery and URBAN. This progressed to include the innovators of Timberweld® technology, and after almost two years in development, Resurgence was launched to great acclaim in early 2019.
The joint has sailed through testing, surpassing all the required standards for accreditations; PAS24 security testing was faultless, BS EN 6375 air and water testing achieved the highest classification possible and the BS EN 514:2018 weld test gave fantastic results.
The first double rebated flush window
Resurgence is more than just your average flush sash window. The double rebated seal provides outstanding weather performance, there are no brush piles or external seals visible in the shadow gaps, it comes triple glazing ready and can be foiled with a wide array of colour choices. Even better for installers, it's fitted in excactly the same way as a standard casement window, with no glass bonding.
While the Resurgence window offers four fabrication options, it was especially designed to be fabricated using URBAN's Timberweld® machinery solution; consultations with URBAN at the design stage have allowed Liniar to fine tune the system's features for the best possible finish.
Exclusive offer for Liniar fabricators
With only two milling machines required, instead of the standard four, fabricators can save on the initial machinery outlay – and uniquely designed cutters remove the need to re-burr after milling, saving precious fabrication time.
Liniar fabricators can also take advantage of a Liniar Exclusive Bundle when choosing to use the Timberweld® method of fabrication. The bundle includes savings on the licence fee each year until 2025, and Liniar fabricators who use Timberweld® technology will also be featured on the company's website.
See it at the FIT Show
Visitors to Stand J10 between 21 and 23 May will get a firsthand look at the partnership between Liniar, Avantek, URBAN and Timberweld® and find out more about the Liniar Exclusive Bundle. The Liniar stand will feature several Resurgence windows displaying the different fabrication options – and visitors will be able to see the URBAN Timberweld® machinery solution for themselves with an on-stand demonstration by Avantek Machinery.
Don't forget to book your FIT Show tickets at http://bit.ly/Liniar2019FIT - and find out more about the revolutionary Resurgence flush sash window at www.liniar.co.uk/resurgence.
For more information about ordering the trio of machines used to create perfect timber look joints every time using the URBAN Timberweld® method, contact Avantek Machinery on 01332 883 910.