08 Jul 2020
INDUSTRY GETS BACK TO FIT! RECORD LEVELS OF COMMITMENT IN JUNE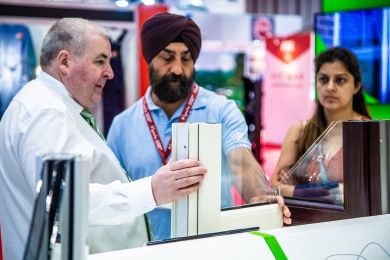 FIT Show organisers have reported record stand sales throughout the month of June for its May 25-27, 2021 event.
The uplift in sales, which amounted to almost 1000m2 in June alone, follows hot on the heels of companies across the industry returning to work inline with the easing in Government-imposed COVID-19 restrictions.
Organisers have secured the backing of a number of the fenestration industry's brand leaders, with over 50% of space now sold for FIT Show 21. The month of June saw the addition of Britmet, Extrudaseal, Smart Ready, Haffner​, Cooke Brothers, Prodim, Apeer, DL Chemicals, Band of Builders and Shandong Ambit Building Materials to the floorplan.
The bumper sales month is supported by a 170% increase in traffic to the FIT Show website in comparison to the same period in the campaign for FIT Show 2019.
Speaking about its record-breaking June sales, FIT Show event director, Nickie West said: "We have been having positive conversations with various brands throughout the COVID pandemic but did not anticipate to see the surge in stand sales that we did throughout the month of June - it's been fantastic!
"Naturally, we have had some making up to do for the quieter months of April and May at the peak of the lockdown, but we have surpassed sales for every June on record for FIT.
Alongside returning brands such as Profine, AluK, Insight Data, Promac, Cortizo and Epwin, visitors will be able to see FIT Show debuts from the likes of plastic and metal frame manufacturer; Finnsworth, machinery giant; Italmac and aluminium extruder; Exlabesa.
Speaking about its decision to join the FIT Show 21 lineup, Exlabesa sales director, Kevin Warner said: "FIT Show 2021 is the ideal platform to showcase the complete product range of Exlabesa Building Systems ltd as it is the major exhibition for the fenestration industry in the UK. It will help us reach our target market of fabricators, installers, architects and specifiers all under one roof."
"It is also perfect timing as it fits within our ongoing commitment to the UK, and is a key part of our marketing strategy – we are a serious player within the local market and have the benefit of being supported by a global giant."
Nickie West added: "FIT Show 21 is proving to be the positive beacon in the industry calendar that we had hoped for with so many of our industry already making firm plans to get back to FIT.
"We're excited about the months ahead and look forward to helping our exhibitors to bring their products to life and reconnect with their customers in a way that no other marketing activity can at FIT Show 21 next May. FIT Show will be a real showcase of the very best that our industry has to offer, and a great checklist of the best brands to do business with for our visitors."
FIT Show, the UK's number one event for the glass, glazing, window, door, hardware and components industry, will return to the NEC next May.
ENDS.

For press enquiries: contact PR & content manager, Jess Hardisty - jess@fitshow.co.uk / +447871 544330.