18 Apr 2023
Innovation Tour To Launch the MACO Smart Home Solution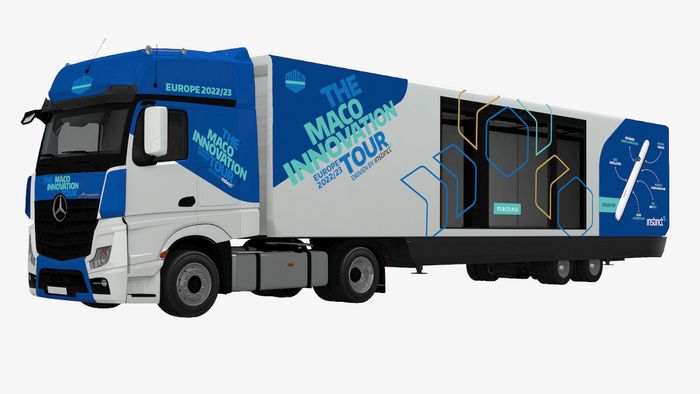 MACO are set to grow the solution offering for those looking for a smarter home with the launch of a window and sliding door solution on the upcoming MACO Innovation Tour.
The MACO Door range now enables multiple locking styles to be integrated within the INSTINCT app. Including the A-TS, M-TS and the award-winning INSTINCT by MACO can all be combined with the app. Enabling users to define access permissions easily and for each person individually. Common everyday challenges, like making a key available to cleaners, tradespeople, or delivery drivers, are resolved with a tap of your finger. You can define one-time entry permission, whenever you want, even if you're not at home. If you want to let people in and out as they please, during a specific time period, you can use the day-release function. It lets everybody use the door whenever they want. There's also optional childproofing. When it's activated, the children can't leave the house unsupervised. The practical reporting function gives you a complete overview of every time the door was opened from inside and outside. You get full control, along with maximum data protection to match the physical security of a MACO door lock. Ease of function is ensured as all three lock variants automatically engage and secure your home when the door is closed.
Utilising MACO's extensive knowledge and experience of working with the biggest smart home solution providers from across Europe such as SOMFY, Mediola and Homee to mention all but a few, MACO have created a solution perfect for all that has been created based on this research. From Homeowners wanting simple security status alerts that they can see on their phones and ask Alexa or Google about, to those that want their windows to be integrated within their wider homes' smart capabilities. This could be from a window opening in one room and then the heating automatically switching off to the window closing and it switching back on again. The MACO sensors allow integration with a full range of smart home solutions that suit the user's preferences. This gives total flexibility to each home but at the heart of it ensures that the home is secure and can be as smart as the user wants. Our Solution not only works within residential homes but also within commercial operations such as schools, care homes and offices.
Flexibility is also given within the application of the MACO solution with it being able to be fitted and set up at any stage within the window fabrication and installation process. This enables any part of the supply chain from architects, fabricators, installers and homeowners to be as involved as they would like to be. Fabricators can create a smart door & window in their factory creating value from the top of the supply chain or simply still create the windows they are fabricating today with MACO hardware and give the options to the installers or even the homeowners if they then want to make their windows smart. The totally wireless window smart solution from MACO provides an impressive industry-leading battery life of 5 years and they are already working on how this can be increased further.
The MACO smart solution will be taking centre stage at this year's FIT Show to celebrate a decade of our partnership. It seems fitting that 10 years after launching the M-SPAG espag solution that was then superseded by the MKV launched also at FIT Show, that at this year's FIT Show, the Smart solution the industry has been wanting and waiting for is to be launched.
Of course, you don't have to wait for FIT Show With the MACO Innovation Tour providing the best pre-events leading up to the flagship exhibition.
You can Book onto the MACO Innovation here - https://bit.ly/BookInnovationTour
With the choice of 7 Incredible Stops spanning 2 weeks that include:
9.5.23 - MACO UK HQ
10.5.23 - Window Ware
11.5.23 - National Space Centre
12.5.23 - Kömmerling UK
13.5.23 - MB DIY
16.5.23 - Hampden Park (Glasgow)
18.5.23 - Jaguar Land Rover (Liverpool)