19 May 2022
INSTALLER HUB IS A HIT AT FIT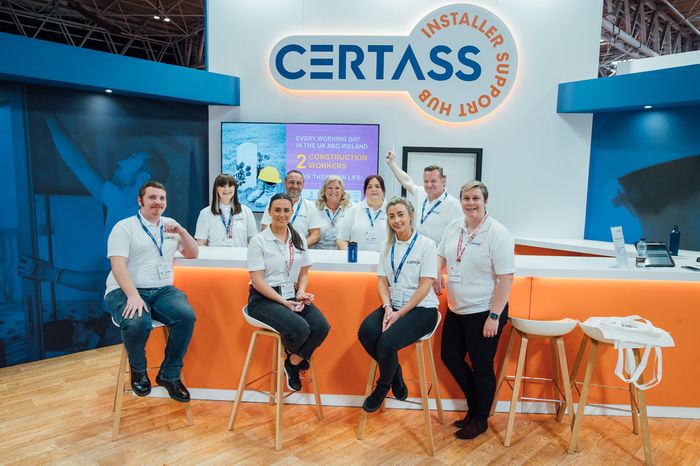 The Certass Installer Support Hub was a hit with installers looking for accurate and up-to-date information on the new Building Regulations at FIT Show.
The Hub, which brought Certass' award-winning Facebook forum to life, also attracted installation companies who were looking for more support and membership benefits from their Competent Person Scheme (CPS) provider.
A hive of activity for the three-day show, Certass also hosted stand partners QANW (Quality Assured National Warranties) who were on hand to help installers with Insurance Backed Guarantees (IBGs) and Deposit Protection Insurance (DPI). Plus, The Installer Support Hub hosted the launch of Certified Roofer, the new Competent Person Scheme for conservatory roofs, powered by Certass and NAPIT.
Chair of Certass, Jon Vanstone said: "We are so pleased with the fantastic response we had to the Installer Support Hub at FIT Show. It was great to be back chatting to members face-to-face and understanding what else they need from us to help support their business.
"It also gave the Certass team a good opportunity to chat to potential new members about what our CPS, Trade Association and consumer-focussed leads site certifiedcompetent.co.uk offers to help make their lives easier, reduce their costs and build their business."
Jon Vanstone featured three times on the FIT Show Seminar Theatre schedule too. He was part of the opening panel debate hosted by Paul Godwin and presented two specialist seminars on Wednesday 11 May – 'An Introduction to the Building Safety Regulator and The Future of Competence for our Industry' and 'Tackling Mental Health & The Suicide Rate with Lighthouse Club'.
Certass also played host to the biggest party of Late Night Wednesday - the ever popular PiGs (People in Glazing Society) networking event, which saw covers band 'Ellie Jones and the Giants' rock the halls of the NEC whilst exhibitors and late-night visitors enjoyed a few drinks.
Jon added: "Certass works for our members, and our focus for the show was to reconnect face-to-face with them to celebrate their success over the past few years, get genuine feedback on our services and talk to them about what's coming next.
"The Installer Support Hub was a real hit with visitors and we're already looking forward to being back in 2023!"