03 Jun 2019
ISO-CHEMIE IN NEW INDUSTRY LEADING PARTNERSHIP LAUNCH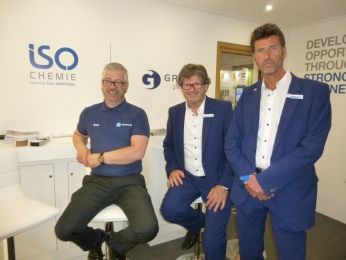 Foam sealant tape company ISO-CHEMIE has linked-up with other industry leaders in a new partnership that will provide a package of benefits for the fenestration sector.
The initiative, launched at FIT Show 2019, sees the specialist in window and door-sealing solutions join with profile supplier Kommerling, glass processor St Gobain and several other industry specialists, in a move that provides a comprehensive 'cradle-to-grave' service.
Spanning everything to do with fenestration, customers taking advantage of the partnership are set to benefit from exclusive preferential rates and direct expertise around product specification, window sales, installation, aftercare and technical support.
With sector leaders in glass, composite doors and secondary glazing in the partnership, ISO-CHEMIE's national sales manager Andy Swift said the development is an industry first.
He added: "Coming together as partners creates an unrivalled synergy within the fenestration industry. Customers and end-users stand to benefit from shared marketing intelligence, product innovation and access to the best specifiers, fabricators and window and door installers.
"While each company will continue to deal directly with customers, we will all be part of a group of experts who can advise on their speciality to other group partners and their customers. It's anticipated that this will contribute to providing long-term cost savings for those who take advantage of the partnership."
ISO-CHEMIE's tapes remove the need for silicone or trims around doors and windows which can, according to Andy Swift, lead to up-sell opportunities by creating an A rated installation, not just an A rated window.
The company, which is marking 10 years in the UK in 2019, is one of Europe's main producers of impregnated foam sealants, specialising in the manufacturer of foam products from polyethylene (EPE), polypropylene (EPP) and polyurethane (PUR) using the latest production techniques.
Products also include the ISO-TOP WINFRAMER thermal insulating and load bearing bracket system for the rapid installation of windows, which has been fire rated to E30.
Complete with Class E and an intumescent Class C certification, this can protect the entire window area from fire for a minimum of 30 minutes, guaranteeing the retention of structural integrity, as well as supporting at least 200kg/m and providing an airtight cavity support.
More about ISO-CHEMIE at https://www.iso-chemie.eu/en-GB/home/ Contact Andy Swift on tel. 07837 337220 or email a.swift@iso-chemie.co.uk