02 Apr 2019
JOIN THE REVOLUTION TO ATTRACT NEW SKILLS AT FIT SHOW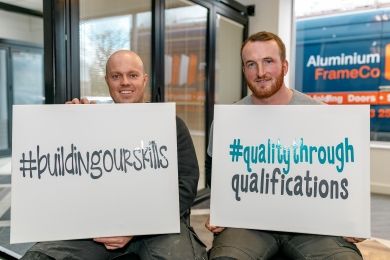 Building Our Skills is set to help create a real buzz at this year's FIT Show with a huge emphasis on promoting ways for employers to attract new talent and skills by taking part in the revolution to 'Make Fenestration A Career of Choice'.
The campaign launched last year was set up to highlight the industry's plight to address the growing skills shortages and aims to elevate Fenestration in the minds of young people and those looking for a career change by creating a wider knowledge of the industry and its career opportunities.
It will be the first time Building Our Skills will exhibit at FIT Show, catapulting the campaign to showcase a newly created range of services all available free to employers regardless of size or number of employees.
Skilled specialists will be on hand to encourage employers and guide on them on training, qualifications and career paths, as well as motivating, upskilling and rewarding existing staff.
There will be an opportunity for employer wishing to take part in the campaign, to join as an Industry Supporter, allowing them to access further a wide variety of toolkits, information and offers specifically designed to help support engagement attracting new staff.
Other new products, designed in collaboration with partners external to the industry, will include; educational volunteering programmes and an employer matching services specifically aligned with ex-military service personal.
Building Our Skills will be supporting FIT Show's Skills Thursday initiative, providing information to non-industry visitors and helping to create a skills trail of Industry Supporters exhibiting at the show, for them to chat to and find out more information on the industry.
Anyone looking to become a Building Our Skills Industry Supporter and help promote Fenestration further, can do so free, by contacting Stephanie Tague at stephanie@buildingourskills.co.uk or by visiting Building Our Skills at FIT Show and chatting to one of our many specialists.