07 Apr 2022
THE JOINERY NETWORK MAKES IT EASY TO ADD TIMBER DOORS TO YOUR PRODUCT OFFERING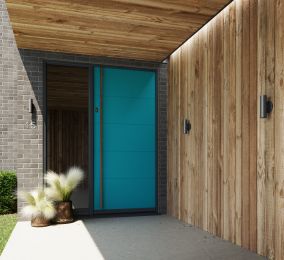 The Joinery Network comes to Stand M7 at FIT Show from 10 to 12 May at the NEC with its stunning new range of Lignum Timber Entrance Doors. With 57 varieties, the door range has been created for both joiners and installers in mind.
"At FIT Show we are focused on showing installers how easy it is to add timber doors and windows into the product mix they offer," says Luke Piper, Director at The Joinery Network. "There's a lot more interest in timber than ever before. We have done all the hard work creating the range, and getting all the weather and security testing sorted to create the most beautiful collection of doors.
"Both the trade and consumer brochures include all the door designs with paint colours and glass options, as well as info on handles and hardware. The complete range is tested to PAS24:2016 and has Secured By Design accreditation.
"Visitors can also see Lignum entrance doors on our decorative glass partner RegaLead's stand, next to us at the show, and on the International Timber stand (R8). Both are Affiliates of The Joinery Network.
"We have taken a cue from the popularity of composite doors to make it really easy for homeowners to choose what they want. There's a huge choice of designs and colours, backed up with excellent consumer marketing."
Luke adds: "As well as talking to installation companies, we are also looking for manufacturing partners across the UK."
It's definitely worthwhile heading over to The Joinery Network's stand as it is also part of the Glass Times Passport scheme. To be in with a chance of winning £10,000, visitors can swing by to get their passport stamped by a member of the Joinery Network team.