22 Dec 2022
Made for Trade Celebrates Longstanding FIT Show Success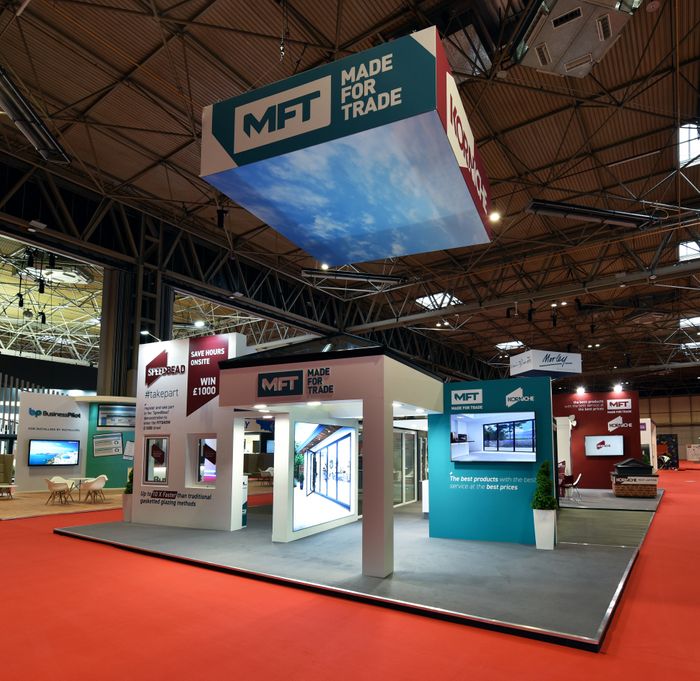 Whilst looking ahead to the 2023 event, revolutionary manufacturer MFT reflects on how the event has played a crucial role in the company's success
How do trade exhibitions fit in the online, social media and post-Covid age? It's a question many companies might ask themselves when it comes to marketing and brand promotion, when the easy solution is just to push more and more potential customers online for image and video-based information.
That's certainly not the case with market-leading glazing system manufacturer Made for Trade, in particular when it comes to the FIT Show. The innovative fenestration company's products might have shaken up the industry and disrupted tradition with their cutting edge, precision engineering-led focus, but when it comes to promotion, nothing comes close to the face-to-face demonstrations and hands-on displays at the annual FIT Show.
As the North East-based firm explored options and promotional opportunities for its forthcoming new design back in 2016, FIT was the one event that stood out as the most suitable launchpad for what was set to become a truly game-changing product and parent brand. That product was the Roof Lantern, under the auspices of MFT's new Korniche brand. Thanks to features that revolutionised fit, finish, quality - and most notably speed and ease of installation - the lantern raised some experienced industry eyebrows as it applied practices, quality and precision from other areas of engineering to the fenestration market.
Whilst no modern day sales item is seemingly complete without a slick online video, still nothing replicates real life conversations with potential new customers and trade partners, and still nothing beats being hands-on with a demonstration of just how a Korniche Roof Lantern can literally save time, hassle and money.
The initial launch was at that 2016 event, which was in many ways a journey into the unknown for this expanding family business. As soon as the show welcomed thousands of visitors through its doors on day one, the new Korniche brand and offering was quickly spring-boarded on its way to becoming a multi-award-winning and UK best-selling trade product.
As a free exhibition to attend for those in the business, FIT Show is the UK's number one event dedicated to the window, door, hardware and flat glass industry. The key difference, however, has always been that FIT has established a reputation as the networking hub of the year, being known as 'the community for our industry'. In the years that followed, the ability to offer build demonstrations became paramount to the success of Korniche products; really cementing the ease and speed of installation of the lantern in the minds of installers, show organisers, press and visitors.
Along with related advertising to deliver an enormous audience and exposure, the FIT Show allowed Made for Trade to be more strategic and targeted with its promotion, and to really publicise the unique attributes and USPs of 'a Korniche' to those people who MFT knew it would directly appeal – installers and builders.
As a result, three years later it was the natural choice for the second major Korniche product showcase; the new Bi-Folding Door. Once again pushing boundaries in terms of ingenuity, ease of fitment and clever design in the fenestration market, FIT was once again the number one choice for its first public display to attendees, trade partners and installers. With the system in its last stages of development, the event also allowed the MFT design team to listen to intensive feedback from show start to finish, and as a result tailoring the final features and market positioning perfectly to suit.
When the event returned after a two-year Covid hiatus, FIT Show 2022 provided Made for Trade with the opportunity and platform to present both products to the broader audience and fenestration press – as well as the other 100+ exhibitors and 10,000+ visitors in attendance. With an impressive 170sqm stand featuring live demonstrations, competitions and interactivity to exhibit the unique selling points of the now-rapidly selling Bi-Folding Doors (such as the award-winning clip-in 'SpeedBead'), being face-to-face at the FIT Show provided a sorely-missed opportunity to really express the qualities of a Korniche product's advanced engineering-led design; saving hours on site and increasing trade partner profits as a result.
Speaking of the events, MFT's Marketing Manager Ian Bousfield said: "There has been a surge in product development and innovation within the fenestration industry in recent years. Exhibitions such as the FIT Show deliver a platform that allow businesses to maintain and grow brand positioning and allow consistent profile to trade audiences."
The Wynyard-based firm have come a long way since that initial 2016 event; now an industry leader in aluminium fabrication and a multi-award-winning business with award winning items. As a result, Made for Trade have seized the opportunity to showcase Korniche products at the FIT Show in May 2023; the event remaining the number one method of demonstrating a new development or offering to this diverse and dynamic industry.