Made for Trade Releases Innovative Korniche Flat Rooflight.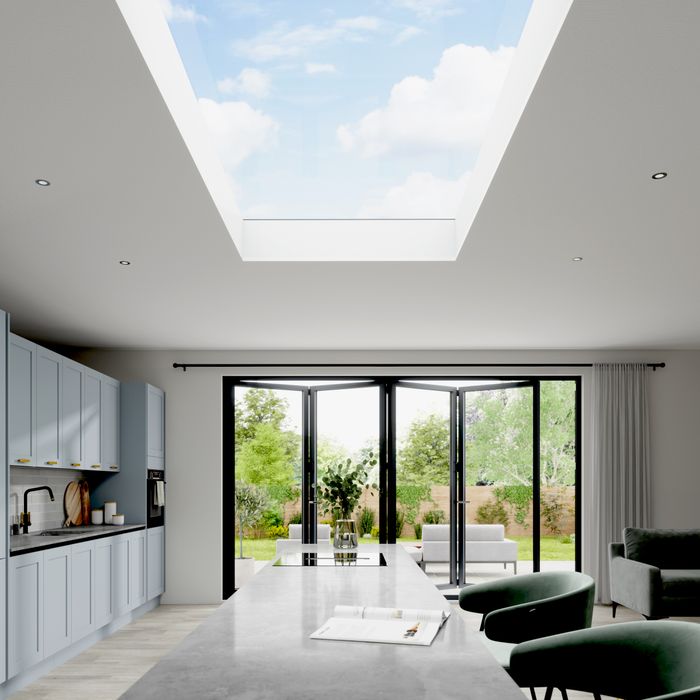 The third product in the multi-award winning Korniche range continues to offer the same market-leading design and installation efficiencies, for flat glass roof glazing
Since inception, the Korniche brand has always represented a new era in the field of fenestration design; with a quality-led focus on clever engineering applied from other industries to bring with it benefits for the installer, re-seller and homeowner. That same list of attributes and USPs has now been applied to the third item in the range; the new Flat Rooflight.
The unveiling at the FIT Show 2023 brought about not only a huge amount of positive feedback from trade installers keen to capitalise on a product that can offer benefits for the homeowner as well as saving time and money for the installer, but also notable positivity from the glazing industry in general; seemingly keen to use a solution that applies Korniche's USP's to a flat glass rooflight installation.
Fabrication of the Korniche flat glass is expected to commence this September, and Made for Trade's contemporary and innovative new system once again incorporates features derived from precision engineering alongside market-leading manufacturing, research & development to really stand out in an industry that can so easily just focus on the outright minimal cost. Much like the Korniche Bi-folding doors and Roof Lantern, the flat glass system is impressively quick and simple to install for the trade partner with unrivalled efficiency, whilst offering the superior quality at a competitive price point.
Number one in the Korniche's list of USPs remains ease of installation, and with the design of the Flat Rooflight, that fuss-free fitting remains second to none. The installer just needs to position, fix, seal and clip the fastener-covering fascia's into place for the perfect finish, taking just a matter of minutes: truly 'Fit, Glaze & Go!'
The aesthetic appeal is another quality which mirrors that of the Korniche Bi-Folding doors and lantern, via the use of a sleek and ultra-slimline profile design that uses high strength aluminium along with thermally-broken polyamide frame components to ensure the highest thermal efficiency; something that has never been so paramount as in 2023. To that end, the Korniche Flat Rooflight can also be easily specified with either 28mm double or 44mm triple glazing thanks to its innovative outer subframe, whilst the glass tints on offer included blue, neutral and clear.
Naturally, those tint shades can be complemented by a choice of frame colour options as well as countless standard and bespoke sizes from 600x600mm, right up to a maximum length of 3000mm and width of 1800mm (subject to overall glass area), and suitable for between three and five degree roof pitches. Security comes as standard with all Made for Trade products, and with PAS24:2016 approval, the Korniche Flat Rooflight delivers the correct peace of mind needed for protecting your home. Furthermore, with industry-leading short lead times and a one-drop delivery service, the time taken from order to a secure and complete roof is at its absolute minimum with Korniche.
Finally, one unique aspect of the new product - that is akin to that of the multi-award winning Korniche Bi-Folding door - is a design step in place to allow glass to be replaced without hassle or compromising the main system. This is achieved on the Flat Rooflight via a new patent pending feature that allows glass to be changed without any disturbance to the interior finish, decoration and plaster line - nor any damage to the outer system should any glass damage occur in years to come.
Of course, the Flat Rooflight comes backed by the same ten-year warranty as all Made for Trade products, as well as industry-leading customer support and service to safeguard purchases for the future. The flat glass will soon be available to order via Made for Trade's automated 'Kwikquote' online ordering tool, and the systems are available both fully assembled and also in kit form – both complete with the easy to understand graphic installation instructions that have become synonymous with Korniche products.