02 May 2019
ON YOUR MARKS! ONLEVEL READY TO GO WITH NEW DESIGNS AND INNOVATIVE SOLUTIONS FOR FIT SHOW 2019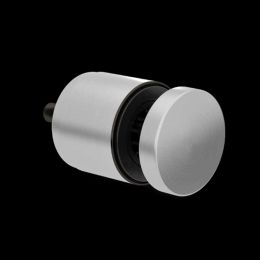 ONLEVEL are excited to be unveiling the latest addition to their ever-expanding product range – The COBOLT. This stand out point fixing is an incredibly innovative solution that visitors to the stand will be able to see first-hand.
It was only two years ago, around the time of the last FIT Show, when ONLEVEL launched in the UK. Fast forward two years and so much has changed for the business. Ground-breaking new products coupled with expert technical assistance has helped ONLEVEL to become one of the UK's most innovative glass hardware suppliers. Two years on and ONLEVEL has adhered closely to their ethos of only developing innovative products that bring something new to the table.
First into the market for ONLEVEL was the TL 40 and TL60 glass balustrade profiles with Flex-Fit, ONLEVEL's innovative system for adjusting glass plates. Shortly followed by the introduction of SKYFORCE, the sleek, easy to install Juliet balcony system. The SKYFORCE Juliet balcony system was designed with two core elements in mind, ease of installation and having the most discreet fixing solution possible. The system dispenses with unsightly top and bottom rails, meaning the building owner gets all the benefits of the view without it being obscured by a thick handrail in the eye line.
Both SKYFORCE and the full range of glass balustrading systems will be available to view at the FIT Show on stand R15 along with two innovative and exciting additions to the ONLEVEL portfolio. Visitors to the FIT Show will be able to see at first hand the long awaited 'KRONOS', ONLEVEL's new one-piece glass clamp, a real game changer in the glass clamp market.
The revolutionary new glass clamp fixes glass securely and swiftly, via a simple 'one piece' connection. Not only does the KRONOS clamp make life easier with a quicker installation and significant cost savings, KRONOS has passed the ASTM B117 salt spray test (1,000 hours), meaning the zinc-nickel coated stainless steel clamp is assured to be rustproof. The innovative 'one piece' design means the clamp can be taken straight out of the box and fixed into place, removing the need to assemble/disassemble a traditional multi part clamp and tricky rubber gaskets.
The FIT SHOW runs from the 21-23rd May 2019 at the NEC Birmingham. ONLEVEL will be on stand R15. See https://www.fitshow.co.uk