12 Apr 2023
MORE REASONS TO VISIT EMMEGI (UK) AT FIT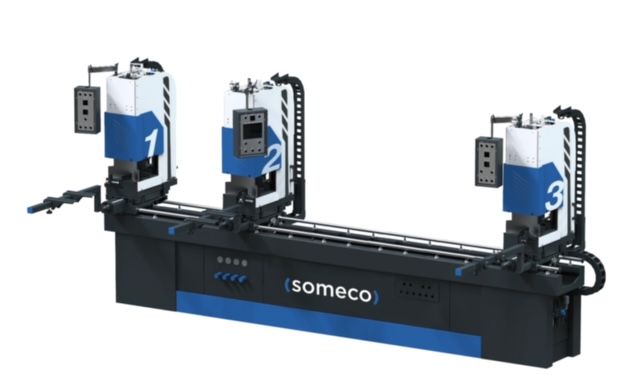 Having exhibited at every FIT Show since the start, Emmegi (UK) knows that most visitors to the show want to see something new, they want to track down show-only deals and they want to spend time catching up with friends and colleagues.
Unsurprisingly then, the Emmegi (UK) stand will offer them all three.
In terms of something new, FIT 2023 will be the first chance for visitors to see the new Precision C2 entry-level twin head saw; and it will also be the first time Emmegi (UK) has included Someco products on its stand, following the acquisition of Someco by Emmegi's parent company Voilap last year.
The electronic Emmegi Precision C2 will in time replace Emmegi's much loved Classic Magic twin head saw and will come in two versions for 4000 and 5000mm cutting lengths, complete with brushless motors and blade adjustment from 90° to 22°30'. It will be on the stand alongside two popular machining centres – the Phantomatic M4L and Comet X4.
The Someco products on display will include the SM3TVH 3-head welder and accompanying CM1H milling machine, as Emmegi (UK) demonstrates that its range now includes dedicated machines for PVC-U as well as aluminium and steel.
Ian Latimer, Emmegi's Managing Director explained: "We've selected products for the 2023 stand which we know will appeal to anyone who is shopping for machinery at the show. The focus will be on some of our most accessible and cost-effective options and will include Someco because PVC-U is such a significant part of FIT. Of course, we'll also have our Acca XL benches on display – after 10 years, the Emmegi stand at FIT wouldn't be complete without them!"
When it comes to show-only deals, Emmegi (UK) will be promoting its range of spares and consumables with a 10% off promotion for orders placed from day one of FIT up to 30 June 2023. Visitors to the stand will be able to pick up a copy of the 2023 catalogue which will include a special voucher. There will also be show-only discounts available on the range of hand tools and ancillaries that Emmegi (UK) supplies.
Wayne Hunter, Emmegi (UK)'s Operations Manager, explained: "We always recommend that customers use good quality authentic spares and quality tools and consumables to get the most from the performance of their machines so we're incentivising them to do just that.
"We're also hoping the special offers will encourage as many of our existing customers just to come and visit us on the stand and have a chat with our team. For us FIT, has always been as much about saying thank you to our existing loyal customers as it has been about selling new machines.
"As usual, we'll have our trademark Italian style hospitality on offer for customers and plenty of space to relax, catch up and enjoy a drink and a snack with us."
Wayne will be on the Emmegi (UK) stand for all three days of FIT and is also inviting customers to stop by the stand if they just want any help or advice on their machine. He added: "I'll be answering questions on everything from cleaning and maintenance routines to software options and training recommendations.
"Essentially, our stand at FIT is all about giving as much value to visitors as we can – whether they're browsing for new machines, or they bought from us 10 years ago. We can't wait to see everyone again."
More product details at: www.emmegi.com