19 Jan 2022
MORLEY GLASS 'FIT AND READY' FOR HOTLY ANTICIPATED 2022 SHOW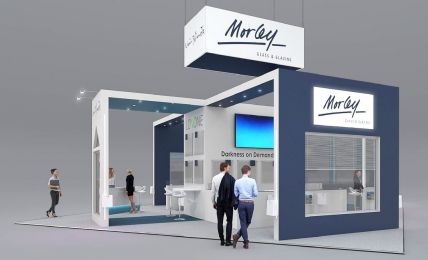 The UK's leading integral blinds manufacturer Morley Glass will be showcasing its largest ever range of Uni-Blinds at this year's FIT Show, giving window and door installers a long overdue and exclusive opportunity to explore its latest exciting innovations.
For many visitors, the spacious 110 sq. m Morley Glass exhibition stand – N31 – will be their first chance to see and appraise the two newest Uni-Blinds integrated blind systems which have been developed since the last FIT Show in 2019. Morley Glass is anticipating strong interest in both the pleated blackout and symmetrically designed SV+ sliding Venetian systems because of the unique proposition that they offer to homeowners and developers.
These latest products will feature along with the full Uni-Blinds integral blinds range to give FIT Show visitors the complete picture of what these multi award winning shading and privacy solutions have to offer. The range on display will also include the manually operated corded C System and the sliding S and SV sliding systems, the smart home compatible motorised MB System – incorporating Loxone home automation – and innovative W Smart, which is motorised and solar powered.
Morley Glass Managing Director Ian Short said: "After the disappointing but understandable postponement of the FIT Show in 2020 and again last year, May's show looks set to be one of the most important door and window sector events for many years.
"That's why we are looking forward to the 2022 FIT Show so much, finally getting the opportunity to catch up with customers, supply chain partners and industry associates, as well as those who are new to integral blinds but keen to learn how they can open up a whole new revenue stream."
Morley Glass will have a significant presence at the show, with its stand being triple the size of the space it took in 2019, to cater for the growing interest in Uni-Blinds. By being so large, the stand will also help delegates stay safe too, with easy access from all sides and plenty of space to remain socially distanced.
Ian adds: "The FIT Show will be a great opportunity for anyone who isn't familiar with integrated blinds to discover why they are gaining so much popularity. But aside from being able to touch, feel and try out our products, we can also explain how our service works and how we can offer the industry's shortest lead times for a superior quality product which we make here in the UK."
Morley Glass has grown to become the world's largest manufacturers of bespoke sealed units with ScreenLine® integral blinds inside. Its products are installed in all types of windows and doors and supplied nationwide to customers with complimentary delivery in just 10-12 working days when ordered by 10am on any Thursday.
Visit Morley Glass at stand N31 of the 2022 FIT Show when the doors to Birmingham's NEC open from 10th to 12th May.
Attendance is free- Register here.
Find out more about Morley Glass: www.morleyglass.co.uk.